Voxengo Transmodder VST 1.2 released - Press Release
Jun 7, 2005: Transmodder update v1.2 has been released. Transmodder is a transient-driven filtering system in PC VST plug-in format.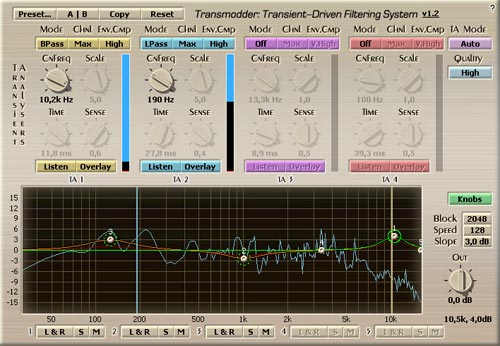 This update features several minor fixes and several visual and functional improvements: transient analyzer's center frequency is now displayed and can be adjusted on the graphical screen; Lvl.Grp parameter of the transient analyzer renamed to Env.Cmp (envelope compression) to reduce confusion.
Among the other improvements are: a new "+1" option for filter envelope source. This option generates a constant +1 envelope level forcing filter to run at the full cut or boost power all the time; overlay beeping can now accept two TA sources; wider BPass2 and BPass3 transient analyzer modes implemented: these modes offer wider band-pass filters.
For your information, Transmodder could also be called a transient modification system, since it allows the user to modify the audio material by means of dynamic filtering--in accordance with the transient content of the signal--delivering spectacular sonic pronunciation and definition.
Transmodder features:
Four transient analyzers
Five dynamic filters
Real-time spectrum analyzer
Transient detection meters
Mid/side channel processing
High quality mode
Factory presets
"A-to-B" comparisons
Mono-to-Stereo, Stereo-to-Stereo processing
All sample rates supported
64-bit internal precision
Native assembler DSP code
Transmodder is available on-line for USD 79.95. For more information and downloads please visit the Voxengo web site: https://www.voxengo.com