Voxengo Sound Delay 1.0 released - Press Release
Jun 17, 2008: Voxengo presents you a new AudioUnit and VST audio plug-in for Windows and Mac OS X computers. Voxengo Sound Delay is an auxiliary multi-channel signal delaying plug-in for professional audio applications.
In Sound Delay, you may specify delay time in both milliseconds and samples, with a high level of precision. This plug-in - being technical - provides a basic signal delaying function only, without signal feedback or modulation capabilities.
Sound Delay also features internal mid/side encoding and decoding, and allows you to delay mid and side channels independently.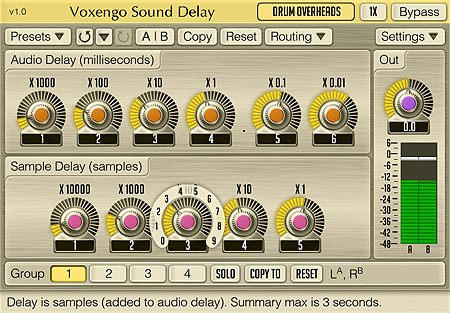 Sound Delay features:
Sample-accurate delaying
Millisecond-accurate delaying
Up to 3 seconds overall delay
Multi-channel processing
Internal channel routing
Channel grouping
Mid/side processing
Preset manager
Undo/redo history
A/B comparisons
Contextual hint messages
Sound Delay plug-in replaces both Audio Delay and Sample Delay plug-ins previously available from Voxengo.
Sound Delay is free for commercial and non-commercial use, subject to its license agreement. Sound Delay can be downloaded from the Voxengo web site: https://www.voxengo.com/