Voxengo r8brain PRO 1.3 released - Press Release
Jan 24, 2006: Voxengo r8brain PRO is a professional sample rate conversion software for Windows.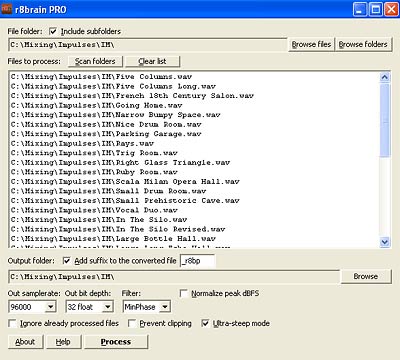 Version update 1.3 features a lot of new useful improvements and minor issue fixes. r8brain PRO now supports a variety of non-standard sample rates as well.
The most useful improvement of this version is the new "Ultra Steep" conversion mode which offers an excellent bandwidth (less than 1.5% high-frequency rejection) at the expense of conversion times. This clearly eliminates all further questions about high-frequency roll-off and any possible aliasing artifacts: in the "Ultra Steep" mode both these problems finally go away.
We are also keeping an eye on advancements of our competitors. That is why this version update offers a slightly improved sample rate conversion quality and overall increased SNR.
For your information, r8brain PRO implements sample rate conversion processing in its full: interpolation and decimation steps without exploiting any kind of simplifications; the signal is first resampled to a least common multiple sample rate which makes conversion perfect.
r8brain PRO features:
Reads 8-, 16-, 24-, 32-bit PCM and IEEE files
Reads both WAV and AIFF files
Writes 16-, 24-, 32-bit PCM and IEEE WAV files
Multi-channel file support
Extensible wave format support
EBU BWF extensions support
Linear- and minimum-phase modes
Ultra-steep conversion mode
Batch support
Automatic normalization
Supports all standard sample rates
For more information please visit our webpage at https://www.voxengo.com.