Voxengo LF Max Punch 1.2 released - Press Release
Jan 25, 2010: Voxengo LF Max Punch version 1.2 update is now available for download. LF Max Punch is a professional audio low-frequency boosting effect AU and VST plugin for professional audio and sound production applications, available in AudioUnit and VST plug-in formats, for Mac OS X and Windows computers.
Version 1.2 update includes the following changes:
Side-chain routing presets now appear dimmed to reduce confusion.
Parameter automation on AU Mac OS X now shows real parameter values.
Preset "update" function implemented in the preset manager.
The "VST Function Sync" global switch was added that fixes crashes in some hosts (i.e. Tracktion).
"Density mode" implemented in level meters.
Crossover and DC filter parameters are now specified for all channel groups to avoid phasing problems.
DC filter can be now disabled completely.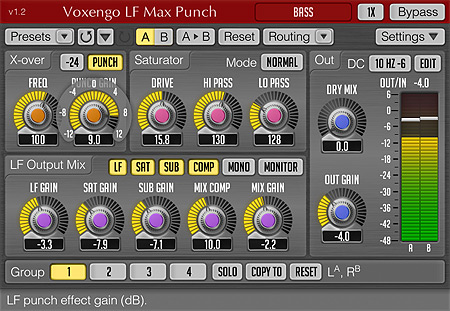 LF Max Punch plug-in dynamically emphasizes selected bass frequency band, applies a smooth saturation over it, and produces additional sub-harmonic content, with the ability to blend it with the original bass band sound. Optional compression can then be applied to the resulting low-frequency sound.
LF Max Punch features:
Puncher module
Saturator module (2 modes)
Sub-harmonic synthesizer
Built-in compressor
Effect monitoring switch
Multi-channel processing
Internal channel routing
Channel grouping
Mid/side processing
Up to 8x oversampling
64-bit floating point processing
Preset manager
Undo/redo history
A/B comparisons
Contextual hint messages
Demo version of Voxengo LF Max Punch and other pro audio plug-ins can be downloaded at the Voxengo web site: https://www.voxengo.com/