Voxengo Lampthruster VST 2.2 released - Press Release
Jun 20, 2005: Lampthruster version 2.2 has been released and is now available for download. Lampthruster is a unique non-linear processing module (tube/valve amp simulator) coupled with a vintage-sounding equalizer. Lampthruster is currently available in PC VST plug-in format only.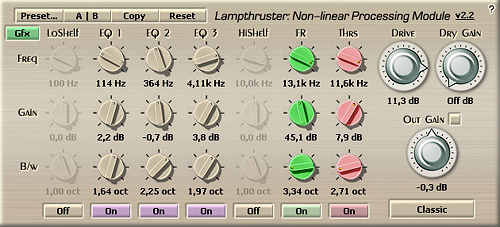 This version update introduces a convenient graphical equalizer curve editing mode like the one found in other Voxengo equalizer plug-ins. This graphical display allows you to get the most from Lampthruster's unique equalizer. Note that EQ band gain range has been decreased to 18 dB for more convenience during EQ curve editing.
Voxengo Lampthruster features:
9 artistic pre-amp models
Built-in vintage equalizer
Graphical EQ curve editing
On/off switches for all processing stages
Factory presets
"A-to-B" comparisons
Mono-to-Stereo, Stereo-to-Stereo processing
All sample rates supported
64-bit internal precision
Native assembler DSP code
You may purchase Lampthruster on-line for USD 59.95. Lampthruster is also available in various plug-in bundles as well. For more information and downloads please visit the Voxengo website: https://www.voxengo.com