Voxengo Elephant 4.0 mastering limiter plugin released - Press Release
Feb 20, 2014: Voxengo is pleased to announce the release of Elephant version 4, a mastering limiter plugin for professional audio and sound production applications, available in AudioUnit, VST and VST3 plug-in formats (including native 64-bit support), for Mac OS X (v10.5 and later), and Windows computers.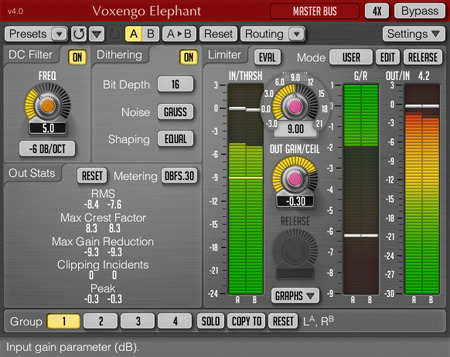 Voxengo Elephant is a mastering limiter plug-in for professional music production applications. The most remarkable feature of this signal limiter is its sonic transparency. Elephant brings sound limiting and loudness maximization without audible "pumping" sonic artifacts.
Elephant is a highly competitive plug-in for mastering applications: it features a variety of limiter modes that can be deeply customized, and a comprehensive set of level metering tools, including headroom estimation and K-system metering. Elephant's built-in linear-phase oversampling is an important element in achieving high-quality peak limiting and loudness maximization without inter-sample overshoots.
Elephant limiter can be used for mixing and mastering of both stereo and multi-channel music and sound material, at any standard sample rate. Limiting process can be visualized both as gain reduction meter and real-time graph.
Elephant, also featuring a DC offset filter, and a high-quality bit-depth converter with an optional noise-shaping, allows you to finish your music and audio productions with a spark!
Elephant features:
Transparent signal limiting action
9 predefined limiter modes
Limiter mode editor
Optional release stage
Noise-shaped bit-depth converter
DC offset removal filter
Waveform graph view
Stereo and multi-channel processing
Internal channel routing
Channel grouping
Up to 8x linear-phase oversampling
64-bit floating point processing
Preset manager
Undo/redo history
A/B comparisons
Contextual hint messages
All sample rates support
22 ms compensated processing latency
Elephant 4.0, which is backwards-compatible, includes the following changes since version 3:
Added a new "EL-4" limiter mode, with less harmonic coloration.
Added a new "Dynamic Release Control" limiter stage.
Added a new "Timing" limiter mode parameter.
Added a new "Release to Attack Ratio" limiter mode parameter.
Added a new "Release Shape" limiter mode parameter.
Added input level meter together with the threshold mark.
Implemented the "Eval" limiter's evaluation mode.
Added the "Trans View" transient visualization.
Made the "In Gain" and "Out Gain" knob ranges more practical.
Magnified the "Out Gain" knob's scale around 0 dB.
Made changes to the "Trans Time" parameter stutter-free.
The output statistics are now automatically reset if any parameter that influences the output statistics was changed.
Added "EL-4", "COMPACT" and "EXPANDED" factory limiter modes.
Introductory price of USD 99.95 will be effective for two weeks from now, which is 15% off the regular price of USD 119.95. Upgrading from the previous version costs USD 49.95 if previous version was purchased earlier than 180 days from now: otherwise the upgrade is free during this grace period. Demo version of Elephant can be downloaded freely at the Voxengo web site: https://www.voxengo.com/product/elephant/