Voxengo Drumformer multiband drum and master track processing plugin released - Press Release
Sep 7, 2011: Voxengo is very happy to announce the release of its newest plug-in: Drumformer. Drumformer is a multiband drum and master track dynamics processing plug-in for professional music and audio production applications. Drumformer was designed to be a comprehensive solution for the broadest range of sound processing tasks, allowing you to easily implement almost any dynamics processing idea you may have. Drumformer is available in AudioUnit and VST plug-in formats (including native 64-bit support), for Mac OS X (v10.5 and later), and Windows computers.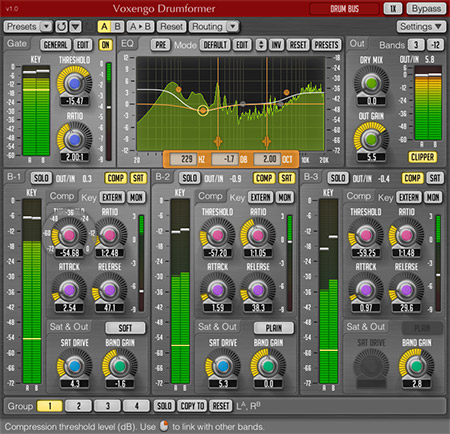 Drumformer can operate in broadband, 2-band and 3-band modes, with each band having compressor-expander and saturation modules. The sound of the compressor can be defined as "gluey with a ping", because it instantly creates a "tight and glued together" sound while masterfully emphasizing the transients. The saturation module offers you a choice between six saturation modes, each having a smooth sound and differing harmonic content.
Drumformer features a precise gate module with a round sound and multifaceted controls that is useful when you are processing a multi-tracked drum kit. The built-in parametric equalizer with its spectrum analyzer will also come in handy. The "Clipper" module which is a part of the plug-in allows you to get artistic master output clipping effects.
Drumformer will positively enhance your professional toolset and may help you produce even better recordings faster.
Drumformer features:
Broadband, 2- and 3-band operation
3-band compressor/expander
3-band saturation module with 6 modes
Broadband gate module
Parametric equalizer
Output clipper module
External side-chain capability
Real-time FFT spectrum analyzer
Stereo and multi-channel processing
Internal channel routing
Channel grouping
Mid/side processing
Up to 8x oversampling
64-bit floating point processing
Preset manager
Undo/redo history
A/B comparisons
Contextual hint messages
All sample rates support
16 ms compensated processing latency
Introductory price of USD 79.95 will be effective between September 7th, 2011, and September 28th, 2011, which is 20% off the regular price of USD 99.95.
Demo version of Drumformer can be downloaded freely at the Voxengo web site: https://www.voxengo.com/product/drumformer/