Voxengo Drumformer 1.5 multiband processing plugin released - Press Release
Nov 7, 2016: Voxengo Drumformer update version 1.5 is now available for download. Voxengo Drumformer is a multiband drum and master track dynamics processing plug-in for professional music and audio production applications, available in AAX, AudioUnit, VST and VST3 plug-in formats (including native 64-bit support), for Mac OS X (v10.6 and later), and Windows computers.
Version 1.5 update includes the following changes:
Added ProTools 12+ AAX-64 support.
Fixed incorrectly working gate in VST3 version.
Implemented color scheme editor with load and save functions.
Added "Brown", "White" and "Cyan" color schemes.
Redesigned the infrastructure controls.
Made internal channel names start at "C" to reduce confusion with the A/B comparison buttons.
Added 90%, 110% and 150% visual scales.
Made the user interface scale switchable without host reload.
Reduced plugin file size considerably for faster loading.
Reduced the overall memory consumption.
Bypass switch's state is now saved with the project.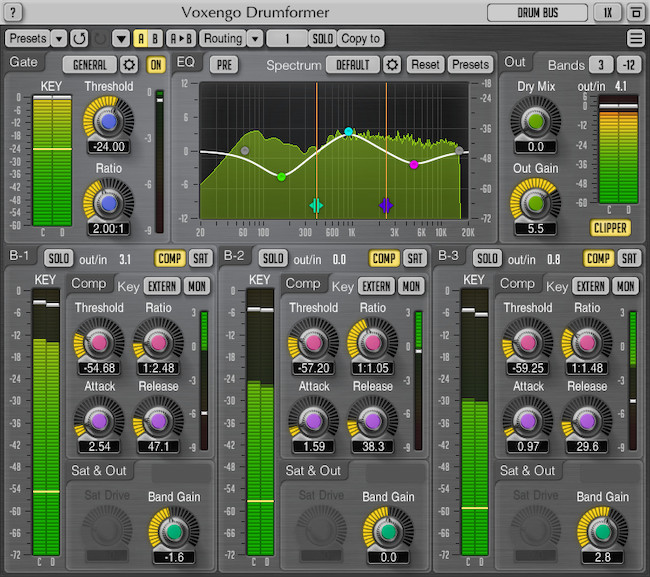 Drumformer can operate in broadband, 2-band and 3-band modes, with each band having compressor-expander and saturation modules. The sound of the compressor can be defined as "gluey with a ping", because it instantly creates a "tight and glued together" sound while masterfully emphasizing the transients. The saturation module offers you a choice between six saturation modes, each having a smooth sound and differing harmonic content.
Drumformer features:
Broadband, 2- and 3-band operation
3-band compressor/expander
3-band saturation module with 6 modes
Broadband gate module
Parametric equalizer
Output clipper module
External side-chain capability
Real-time FFT spectrum analyzer
Stereo and multi-channel processing
Internal channel routing
Channel grouping
Mid/side processing
Up to 8x oversampling
64-bit floating point processing
Preset manager
Undo/redo history
A/B comparisons
Contextual hint messages
All sample rates support
16 ms compensated processing latency
Voxengo Drumformer demo can be downloaded at the Voxengo web site: https://www.voxengo.com/product/drumformer/