Voxengo Drumformer 1.2 multiband drum track processing plugin released - Press Release
Jan 5, 2012: Voxengo Drumformer update version 1.2 is now available for download. Voxengo Drumformer is a multiband drum and master track dynamics processing plug-in for professional music and audio production applications, available in AudioUnit and VST plug-in formats (including native 64-bit support), for Mac OS X (v10.5 and later), and Windows computers.
Version 1.2 update includes the following changes:
Equalizer's virtual keyboard issue fixed.
A rare crash issue happening in Logic Pro fixed.
Plug-in now works correctly on ProTools via FXpansion VST-RTAS adapter.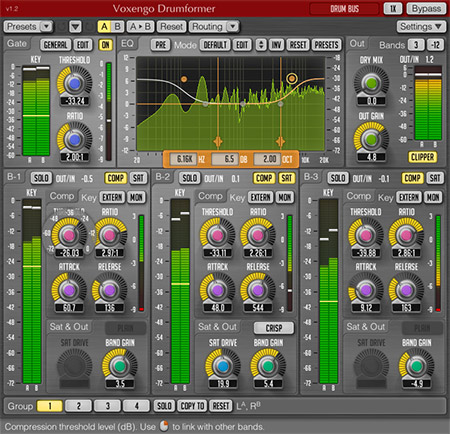 Drumformer can operate in broadband, 2-band and 3-band modes, with each band having compressor-expander and saturation modules. The sound of the compressor can be defined as "gluey with a ping", because it instantly creates a "tight and glued together" sound while masterfully emphasizing the transients. The saturation module offers you a choice between six saturation modes, each having a smooth sound and differing harmonic content.
Drumformer features:
Broadband, 2- and 3-band operation
3-band compressor/expander
3-band saturation module with 6 modes
Broadband gate module
Parametric equalizer
Output clipper module
External side-chain capability
Real-time FFT spectrum analyzer
Stereo and multi-channel processing
Internal channel routing
Channel grouping
Mid/side processing
Up to 8x oversampling
64-bit floating point processing
Preset manager
Undo/redo history
A/B comparisons
Contextual hint messages
All sample rates support
16 ms compensated processing latency
Voxengo Drumformer is available for purchase on-line for USD 99.95. Voxengo Drumformer demo can be downloaded at the Voxengo web site: https://www.voxengo.com/product/drumformer/