Voxengo CurveEQ 3.2 spline equalizer plugin released - Press Release
May 3, 2013: Voxengo CurveEQ update version 3.2 is now available for download. Voxengo CurveEQ, available in AudioUnit and VST plug-in formats (including native 64-bit support), for Mac OS X (v10.5 and later), and Windows computers, is a spline equalizer plugin for professional music and audio production applications.
Version 3.2 update includes the following changes:
Routing is now configured automatically in most cases.
Crash when a control point was close to the maximal or minimal frequency fixed.
Now static spectrum can be loaded from a WAV file directly.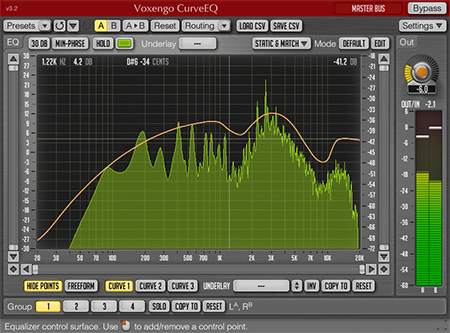 CurveEQ implements spectrum matching technology that allows you to transfer spectrum's shape of one recording to another. In other words, this allows you to "copy" frequency balance of existing time-proven mixes so that other mixes that are still in the works may have a chance to sound better. This technology also greatly helps in music mastering since using it allows you to easily lessen any dramatic differences in the area of frequency balance between various tracks.
CurveEQ features:
3 EQ curves per channel group
Linear- and minimum-phase filtering
Spectrum matching
Freeform EQ curve drawing mode
CSV file import/export
Real-time FFT spectrum analyzer
Stereo and multi-channel processing
Internal channel routing
Channel grouping
Mid/side processing
64-bit floating point processing
Preset manager
Undo/redo history
A/B comparisons
Contextual hint messages
All sample rates support
53 ms compensated processing latency
Voxengo CurveEQ is available for purchase on-line for USD 89.95. Voxengo CurveEQ demo can be downloaded at the Voxengo web site: https://www.voxengo.com/product/curveeq/