Voxengo Crunchessor VST 1.7 released - Press Release
Oct 18, 2005: Version 1.7 of Crunchessor--a general-purpose track compressor in PC VST plug-in format--is now available for download. This version update implements two new features.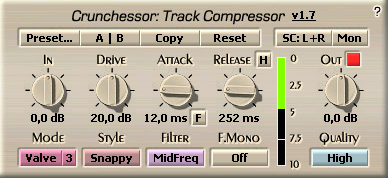 A new "U" attack mode which offers steeper compressor attack stage, for more instant reaction, has been implemented.
It is now possible to disable side-chaining completely in audio hosts which do not fully support VST v2.3 functionality (hosts which do not support 4 channels on input).
Crunchessor features:
Easy compressor tuning
Valve warmness
Coloration styles
Fast and slow attack modes
True side-chaining
Side-chain signal filtering
Gain reduction meter
Factory presets
"A-to-B" comparisons
Mono-to-Stereo, Stereo-to-Stereo processing
All sample rates supported
64-bit internal precision
Native assembler DSP code
For more information and downloads please visit the Voxengo website: https://www.voxengo.com.