Voxengo Crunchessor 2.8 track compressor plugin released - Press Release
Mar 5, 2012: Voxengo Crunchessor version 2.8 is now available for download. Voxengo Crunchessor is a general-purpose track compressor for professional audio production applications. It is available in AudioUnit and VST plug-in formats (including native 64-bit support), for Mac OS X (v10.5 and later), and Windows computers.
Note that on Mac computers, Crunchessor now supports Mac OS X v10.5 and higher only, running on Intel processors. Mac PowerPC support is not available.
Changes version 2.8 implements:
Native 64-bit AudioUnit and VST support on Mac OS X added.
A crash when switching between certain routing presets was fixed.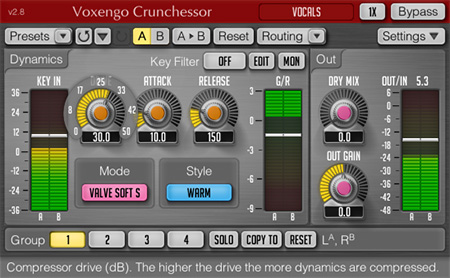 Crunchessor offers you a selection of compression coloration styles--by itself a pretty unique feature for a compressor. By choosing an appropriate coloration style, you can add the character most suitable for the sound material you are working with. As an option, you can disable both coloration and valve warming processing to get a neutral and clean compression sound.
Crunchessor features:
Easy compression tuning
Valve warmness
Coloration styles
External side-chaining
Key signal filtering
Stereo and multi-channel processing
Internal channel routing
Channel grouping
Mid/side processing
Up to 8x oversampling
64-bit floating point processing
Preset manager
Undo/redo history
A/B comparisons
Contextual hint messages
All sample rates support
Zero processing latency
Demo version of Voxengo Crunchessor and other plug-ins can be download at the Voxengo web site: https://www.voxengo.com/product/crunchessor/