Updated Voxengo OldSkoolVerb v2.1, Voxengo MSED v2.5 freeware audio plug-ins are now available for download. These plug-ins are available in AudioUnit and VST plug-in formats (including native 64-bit support), for Mac OS X (v10.5 and later), and Windows computers.
These updated versions include a fix to a rare crash problem.
Voxengo OldSkoolVerb

OldSkoolVerb is a freeware algorithmic reverberation AU and VST plug-in for professional music production applications. This plug-in implements a kind of "classic" stereo reverb algorithm which is technically simple yet optimal. It also produces a very clear spatial image that blends well with the mix.
https://www.voxengo.com/product/oldskoolverb/
Voxengo MSED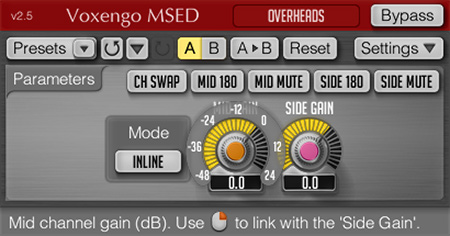 MSED is a professional audio encoder-decoder AU and VST plugin for mid-side processing which is able to encode (split) the incoming stereo signal into two components: mid-side pair, and vice versa: decode mid-side signal pair into stereo signal.
https://www.voxengo.com/product/msed/
These updated and other pro audio plug-ins can be downloaded at the Voxengo web site: https://www.voxengo.com/group/free-vst-plugins/
Thank you :)
My platform: Win7 home premium x64 // I use Voxengo 32bit & 64bit VST plugs in Reaper 5.x 32bit and 64bit
You are welcome! Let me know about your experience with these versions - we made a lot of internal changes since the last update.
Vitaly2 on Mar 6, 2013, 8:08pm:
Hi Aleksey,
Please, consider adding Pan position controllers for MID and SIDE signals. It should give a total control over stereo image.
Cheers.
Thanks for the suggestion, I'll consider adding these controls.
I've always had great HiQuality and (very important) stable work-flow with Voxengo-plugins.
I only have one major pain in the... with your new programming; the VST-mouse control you spoke about earlier (controlling knobs via mouse scroll-wheel). In Reaper it completely kills my mouse-control when using your plugins in bridged mode, which I have to use if I want to show more than one plugin at the same time on the screen. In non-bridged mode, only the selected plugin will show its display. Blame Reaper, but that's the reality of it and it's very very annoying.
It's your choice ofcourse, and the plugins are still the same high audio-quality (and still perfectly stable), so I can't really complain from that point of view.
But I have indeed gone back to earlier version of your plugins because mouse-control is very important for my work-flow.
Is there absolutely no way this new mouse-control option of yours can be user-selectable (perhaps in an on/off switch in the global settings?) so it will even work in bridged mode in Reaper?
Anyway, sound and stability is still top-of-the-class and that IS ofcourse the main issue in the end. But workflow-wise I'm no friend of the new mouse-control options you've introduced.
My platform: Win7 home premium x64 // I use Voxengo 32bit & 64bit VST plugs in Reaper 5.x 32bit and 64bit
Please contact Reaper staff about the problem - I think they have overlooked the problem and can fix it easily.
| | |
| --- | --- |
| This topic was last updated 180 days ago, and thus it was archived. Replying is disabled for this topic. | |