Voxengo Voxformer 2.5 vocal channel strip plugin released - Press Release
February 7, 2011: Voxengo Voxformer version 2.5 update is now available for download. Voxformer is a multi-functional vocal channel strip plugin for professional audio and sound production applications, available in AudioUnit and VST plug-in formats, for Mac OS X and Windows computers.
Version 2.5 update implements the following changes:
The "Show All Channel Meters" routing switch added.
Additional visual look variation settings added.
Knobs in the compressor mode editor can now be linked with the Ctrl key.
Smooth filter automation implemented.
"Filled Spectrum" spectrum display mode switch added.
Oversampling filter type "Min-phase/Lin-phase" switch added.
Global "Auto Oversampling Level" 1X (off) option added.
Control surface crosshair option added (can be switched off in the global options).
De-esser pre-post compressor position switch added.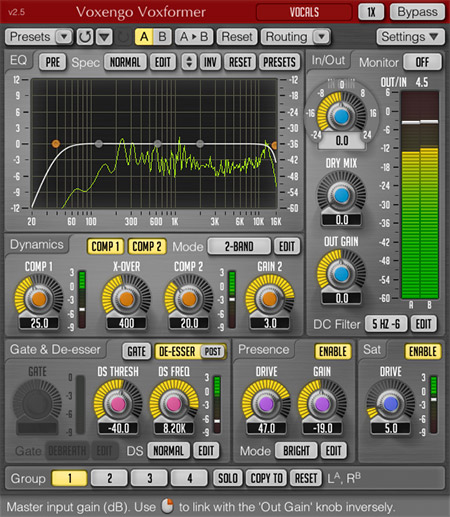 Combining several professional quality processing modules, Voxformer was designed to be a comprehensive solution for all your vocal processing needs – be it spoken or sung vocals. In most cases Voxformer can be used for processing of a wide range of instruments beside vocals.
Voxformer features:
Two built-in vocal compressors
Two-band compressor operation
Asymmetric compression
5-band equalizer
Real-time FFT spectrum analyzer
Noise gate (de-breath) module
De-esser module
Presence boosting module
Saturation module
Residue listening mode
Multi-channel processing
Internal channel routing
Channel grouping
Mid/side processing
Up to 8x oversampling
64-bit floating point processing
Preset manager
Undo/redo history
A/B comparisons
Contextual hint messages
Voxformer is available for purchase on-line for USD 69.95. Demo version of Voxengo Voxformer and other pro audio plug-ins can be downloaded at the Voxengo web site: https://www.voxengo.com/product/voxformer/