Voxengo SPAN 2.1 FFT spectrum analyzer released - Press Release
Apr 8, 2010: Voxengo SPAN version 2.1 update is now available for download. SPAN is a real-time "fast Fourier transform" audio spectrum analyzer plug-in for professional music and audio production applications. For the most part it was derived from Voxengo GlissEQ dynamic parametric equalizer and reproduces its spectrum analysis functionality. SPAN conforms to AudioUnit and VST plugin specifications, and is available for Mac OS X (v.10.4.11 and later) and Windows (32-bit and 64-bit) computers.
List of changes in version 2.1:
Global options saving problem fixed.
Clicking on the control surface now resets spectrums in all channel groups.
"Show All Channel Meters" duplicate meters issue fixed.
Incorrect spectrum's power readout on zoom-in fixed.
Incorrect correlation metering on anti-phase signal fixed.
Graphics drawing performance improved considerably.
Scroller positions are now preserved when the user interface closes.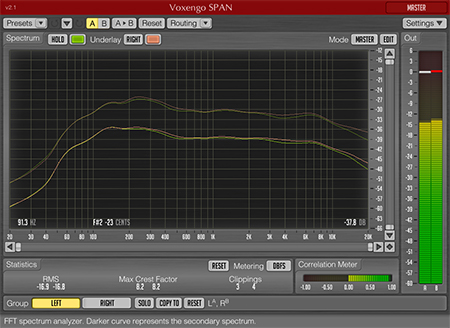 SPAN features:
Output signal power statistics
Spectrum smoothing
Clipping statistics
Correlation meter
K-metering
Multi-channel analysis
Mid/side analysis
Internal channel routing
Channel grouping
Preset manager
Undo/redo history
A/B comparisons
Contextual hint messages
As a side note, Voxengo MSED and Voxengo Tube Amp plug-ins were also updated to versions 2.3 and 2.2, respectively, with fixes to various issues implemented and new features added.
Voxengo pro audio plug-ins can be downloaded at the Voxengo web site: https://www.voxengo.com