Voxengo PrimeEQ 1.4 parametric equalizer plugin released - Press Release
February 2, 2021: Voxengo is happy to announce the release of PrimeEQ version 1.4 - a parametric equalizer plug-in for professional music production applications. PrimeEQ was designed to be the first equalizer to reach for when track or mix equalization is necessary: just insert the plug-in, put and drag the control points to the desired positions. PrimeEQ is available in AAX, AudioUnit, VST, and VST3 plug-in formats, for macOS and Windows computers.
This update includes the following changes:
IMPORTANT: This version has changed its product key format. If you already purchased this plug-in, to use this version, please visit the Voxengo web site and get a new key at the User Area (if you obtained a product key from a reseller, you will need to add your existing product key there first), or use the Automatic key download feature of the plug-in itself.
Added Apple Silicon native compatibility.
Added 1/48 octave spectrum smoothing option.
Improved spectrum smoothing precision.
Redesigned the interface to provide the widest EQ and spectrum view possible.
Added the "OutGain" parameter automation.
Added the preset list sorting function to the preset manager.
Redesigned the knob image.
Extended the "Color Editor" with color modifiers.
Added the "Gray Blue" and "Navy" color schemes.
Implemented "anti-aliased" line drawing optimization.
Improved readability of the condensed font.
Added AudioComponents interface to AudioUnit as the ".rsrc" interface may be deprecated in the future.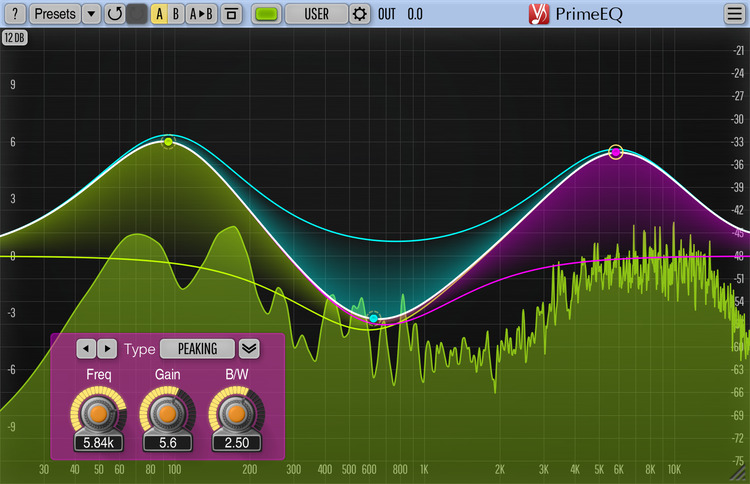 PrimeEQ implements an extremely optimized user interface. It features an innovative "differential" display which shows you how exactly a given selected filter contributes to the overall EQ shape. All control points are placed on the overall EQ shape making the workflow with this equalizer fast and efficient. PrimeEQ is similar to CurveEQ in this respect except that PrimeEQ uses independent parametric filters instead of a continuous EQ curve.
PrimeEQ features a deeply customizable spectrum analyzer of the same high quality as found in SPAN, GlissEQ, and other Voxengo plug-ins.
PrimeEQ features:
Extremely optimized workflow
New "differential" display
Real-time spectrum analysis
Up to 32 parametric bands
13 filter types
Narrow-band sweeping
User interface window resizing
Stereo and multi-channel processing
64-bit floating point processing
Preset manager
Undo/redo history
All sample rates support
Zero processing latency
Retina and HighDPI support
Demo version of PrimeEQ can be downloaded freely at the Voxengo web site: https://www.voxengo.com/product/primeeq/