Voxengo Overtone GEQ 1.4 released - Press Release
Apr 7, 2008: Voxengo Overtone GEQ version 1.4 has been released. Overtone GEQ is a freeware 7-band equalizer plug-in in VST and AudioUnit formats for Windows, Windows 64 and Mac OS X platforms.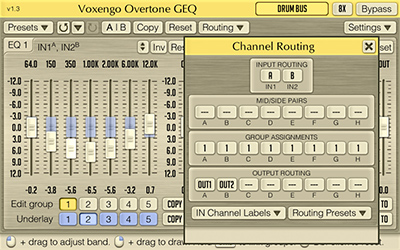 Version 1.4 implements the following changes:
"Oversmp" automation parameter added.
Instance name now persists between preset/program changes.
Group selectors now display groups that were actually used in the Routing window.
A possible cause of a rare occasional crash resolved.
Output routing arrangement changed - it is now possible to route the same internal channel to several outputs.
"Mouse wheel sensitivity" global setting renamed to "mouse wheel precision".
Overtone GEQ was designed to be a quick EQ shape adjustment tool for mixes and sub-mixes. During its operation, Overtone GEQ applies harmonic enhancement processing that usually helps at creating "interesting" sound.
Overtone GEQ Features:
7-band graphic equalizing
+/- 12 dB gain range per band
2 graphic equalizer views
Multi-channel processing
Internal channel routing
Channel grouping
Mid/side processing
Complex harmonic coloration
64-bit floating point processing
Preset manager
Undo/redo history
A/B comparisons
Contextual hint messages
Overtone GEQ and other Voxengo plug-ins can be downloaded at the Voxengo web site: https://www.voxengo.com/