Voxengo LF Max Punch 1.9 bass enhancer plugin released - Press Release
March 26, 2020: Voxengo LF Max Punch version 1.9 update is now available for download. LF Max Punch is a professional audio effect plugin for music and sounds where low-frequency thump and punch are most welcome, and where distortion is applied specifically to bring the bass sound to life. LF Max Punch is available in AAX, AudioUnit, VST, and VST3 plugin formats, for macOS and Windows computers.
Version 1.9 includes the following changes:
Added the preset list sorting function to the preset manager.
Redesigned the knob image.
Extended the "Color Editor" with color modifiers.
Added the "Gray Blue" and "Navy" color schemes.
Improved visual quality at different visual interface scales.
Windows: implemented (switchable) higher-precision user interface update timer, for smoother display.
Added macOS Catalina compatibility.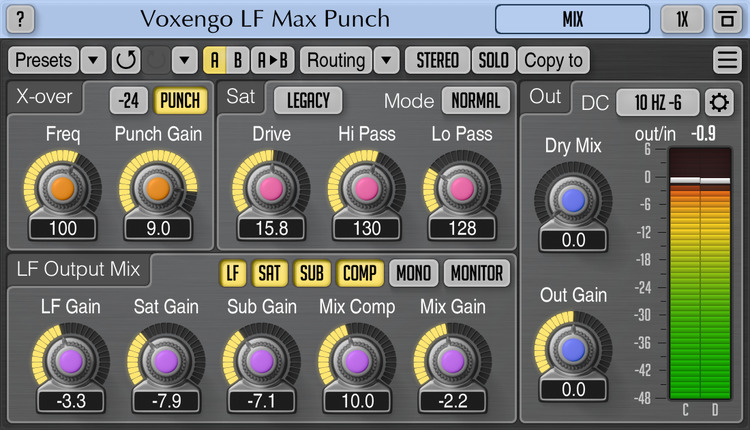 LF Max Punch plugin dynamically emphasizes selected bass frequency band, applies a smooth saturation over it, and produces additional sub-harmonic content, with the ability to blend it with the original bass band sound. Optional compression can then be applied to the resulting low-frequency sound. LF Max Punch first splits the broad-band signal into low- and high-frequency bands and then applies the aforementioned effects to the lower band only.
This effect can be applied over a wide range of sound material: drum tracks, bass tracks, contemporary music mixes: rap, trance, club music; also rock music can benefit from LF Max Punch's low-frequency enhancements.
LF Max Punch features:
Puncher module
Saturator module (3 modes)
Sub-harmonic synthesizer
Built-in compressor
Effect monitoring switch
Crossover steepness switch
Stereo and multi-channel processing
Internal channel routing
Channel grouping
Mid/side processing
Up to 8x oversampling
64-bit floating point processing
Preset manager
Undo/redo history
A/B comparisons
Contextual hint messages
All sample rates support
Zero processing latency
Retina and HighDPI support
Voxengo LF Max Punch end-user license is available for purchase on-line for US$ 69.95. Demo version of Voxengo LF Max Punch can be downloaded at the Voxengo web site: https://www.voxengo.com/product/lfmaxpunch/