Voxengo Latency Delay, Sound Delay and Stereo Touch free audio plugins update - Press Release
Aug 7, 2013: Updated Voxengo Latency Delay v2.3, Voxengo Sound Delay v1.5 and Voxengo Stereo Touch v2.6 freeware audio plug-ins are now available for download. These plug-ins are available in AudioUnit and VST plug-in formats (including native 64-bit support), for Mac OS X (v10.5 and later), and Windows computers.
These are the maintenance updates that fix rare crashes.
Latency Delay and Sound Delay now feature the "quick entry" field for fast delay value entry. Sound Delay's maximal overall delay time was increased from 3 to 12 seconds.
Voxengo Latency Delay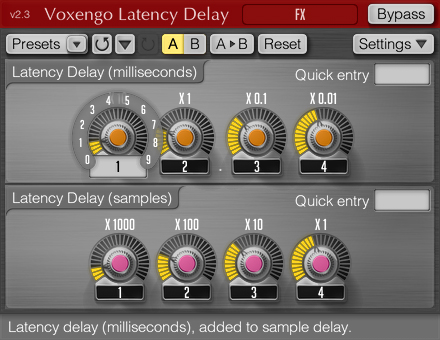 Latency Delay is an auxiliary AU and VST plugin which allows you to compensate latency produced by any audio plug-ins, instruments and processes which produce latency but do not try to report it to the host. Latency Delay introduces 10000 samples latency itself and delays the audio signal by 10000 minus the specified amount of samples or milliseconds. Please note that audio host application should support the latency compensation itself for this plug-in to function properly.
https://www.voxengo.com/product/latencydelay/
Voxengo Sound Delay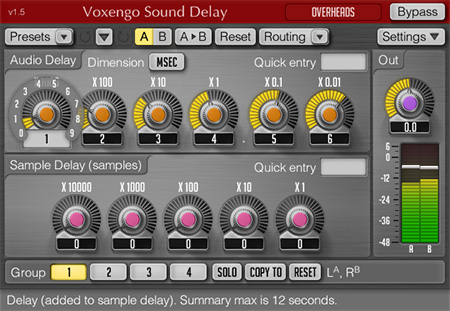 Sound Delay is an auxiliary multi-channel signal delaying AU and VST plugin for professional audio applications. You may specify delay time in both milliseconds and samples, with a high level of precision. This plug-in – being technical in its purpose – provides a basic signal delaying function only, without signal feedback or modulation capabilities.
https://www.voxengo.com/product/sounddelay/
Voxengo Stereo Touch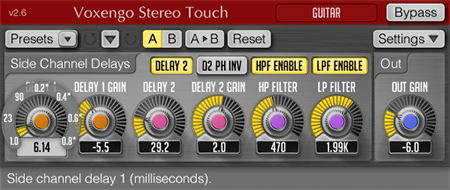 This professional audio AU and VST plugin implements a classic technique of transforming a monophonic track into spacious stereophonic track by means of mid/side coding technique.
Stereo Touch is most effective on monophonic sounds without overly sharp transients: it works great for both acoustic and electric/overdriven guitars, synthetic pad sounds and even vocals. By means of this plug-in you can easily get spacious and even "surround" sounding tracks, without utilizing a double-tracked recording technique.
https://www.voxengo.com/product/stereotouch/
These updated and other pro audio plug-ins can be downloaded at the Voxengo web site: https://www.voxengo.com/group/free-vst-plugins/