Voxengo GlissEQ 3.10 dynamic equalizer plugin released - Press Release
Mar 24, 2019: Voxengo GlissEQ version 3.10 update is now available for download. Voxengo GlissEQ is a dynamic parametric equalizer plug-in for professional audio and sound production applications. GlissEQ is available in AAX, AudioUnit, VST and VST3 plug-in formats (including native 64-bit support), for macOS (v10.7 and later), and Windows computers.
This version implements the following changes:
Added Retina support on macOS, and automatic high-resolution UI size adjustment on Windows.
30% lower CPU usage on AVX2-capable processors (in 64-bit mode).
Fixed issue with "Spectrum Offset" display modes.
Added "anti-aliasing" spectrum display mode.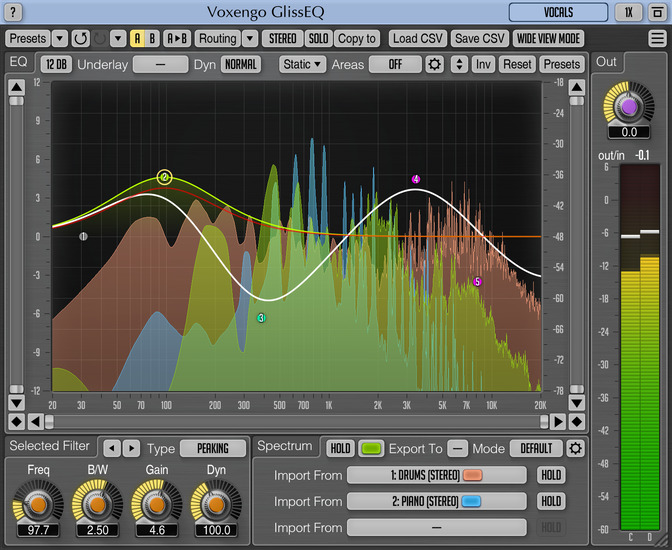 The most interesting and unique feature GlissEQ offers you is its filters with dynamic behavior. Beside this wonderful "dynamic behavior", GlissEQ features real-time spectrum analyzer. Moreover, the spectrum of a track can be exported to any other instance of GlissEQ thus making real-time inter-track spectrum comparisons possible. This can help you free frequency ranges in one track to allow the instrument in another track occupying same frequencies breathe.
GlissEQ features:
Filters with dynamic behavior
Real-time spectrum analysis
Real-time spectrum import/export
Up to 32 parametric filter bands
16 filter types
Harmonically-enhanced filter type
Narrow-band sweeping
EQ area highlight
Static spectrums display
User interface window resizing
Stereo and multi-channel processing
Internal channel routing
Channel grouping
Mid/side processing
Up to 8x oversampling
64-bit floating point processing
Preset manager
Undo/redo history
A/B comparisons
Contextual hint messages
All sample rates support
Zero processing latency
Retina and HighDPI support
Demo version of Voxengo GlissEQ and other pro audio plug-ins can be downloaded at the Voxengo web site: https://www.voxengo.com/product/glisseq/