Voxengo GlissEQ 3.1 released - Press Release
Jan 13, 2010: An updated version 3.1 of Voxengo GlissEQ is now available for download. Voxengo GlissEQ is a dynamic parametric equalizer plug-in for professional audio and sound production applications, available in AudioUnit and VST plug-in formats, for Mac OS X and Windows computers. This version implements the following changes:
Preset "update" function implemented in the preset manager.
Selected filter's curve is now always shown, not only when hovered.
Filter selection (scrolling) buttons added.
Control points can now be double-clicked to disable/enable the filter.
The "VST Function Sync" global switch was added that fixes crashes in some hosts (i.e. Tracktion).
Control surface readout now displays musical note.
"Density mode" implemented in the output level meter.
"Ctrl+Drag" narrow-band sweeping implemented.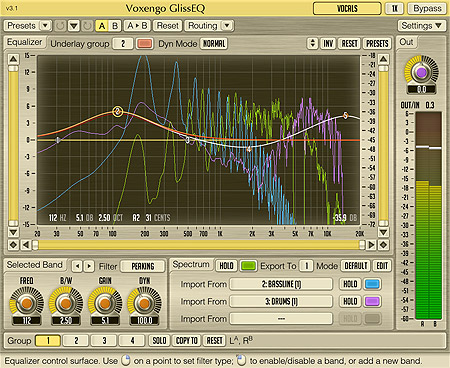 The most interesting and unique feature GlissEQ offers you is its filters with dynamic behavior. Such "dynamic behavior" gives you a friendly, assisting equalization experience. Boosting up the highs will not create the fatiguing effect of overload; boosting up the lows will not make things sound mushy. Instead, you will get a pleasant transient-emphasizing effect bringing life and dimension to your tracks.
GlissEQ features:
Filters with dynamic behavior
Real-time spectrum analysis
Real-time spectrum import/export
Up to 32 filter bands
16 filter types
Harmonically-enhanced filter type
Narrow-band sweeping
Multi-channel processing
Internal channel routing
Channel grouping
Mid/side processing
Up to 8x oversampling
64-bit floating point processing
Preset manager
Undo/redo history
A/B comparisons
Contextual hint messages
Demo version of Voxengo GlissEQ and other pro audio plug-ins can be downloaded at the Voxengo web site: https://www.voxengo.com/