Voxengo Elephant VST 2.5 released - Press Release
Jan 16, 2006: Version update 2.5 of Voxengo Elephant--a mastering limiter plug-in in PC VST format--is now available for download. This version implements the following changes: Metering mode selection now includes K-20, K-14 and K-12 systems; metering mode selection is now local instead of global.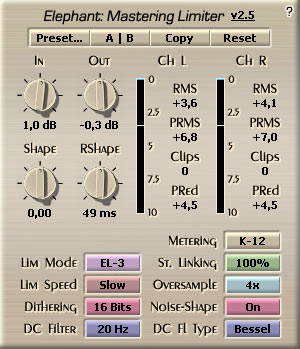 Beside that, Butterworth DC (high-pass) filter performance has been fixed (previously it was not working as it should work).
Voxengo Elephant is a brickwall limiter with a variety of limiter modes that offer transparent action for almost any kind of program material. Voxengo Elephant features up to 4 times linear-phase oversampling that blocks intersample overshoots from appearing. Noise-shaped bit-depth conversion is available as well.
Voxengo Elephant features:
Transparent limiting action
8 limiter modes
7 speeds for various styles of music
Gain reduction VU meters
Noise-shaped bit-depth converter
RMS and peak RMS output counters
Automatic attack and release
DC removal filter
Up to 4x oversampling
"A-to-B" comparisons
Factory presets
Mono-to-Stereo, Stereo-to-Stereo processing
Sample rates up to 96 kHz
64-bit internal precision
To get more information and to access downloads you can visit the Voxengo website: https://www.voxengo.com/