Voxengo EBusLim 1.4 bus peak limiter plugin released - Press Release
August 4, 2020: Voxengo EBusLim version 1.4 is now available for download. Voxengo EBusLim is a brickwall peak limiter and loudness maximization plugin for professional audio and sound production applications, available in AAX, AudioUnit, VST and VST3 plug-in formats, for macOS and Windows computers.
Changes in version 1.4:
IMPORTANT: This version has changed its product key format. If you already purchased this plug-in, to use this version, please visit the Voxengo web site and get a new key at the User Area (if you obtained a product key from a reseller, you will need to add your existing product key there first), or use the Automatic key download feature of the plug-in itself.
Added the preset list sorting function to the preset manager.
Redesigned the knob image.
Extended the "Color Editor" with color modifiers.
Added the "Gray Blue" and "Navy" color schemes.
Improved readability of the condensed font.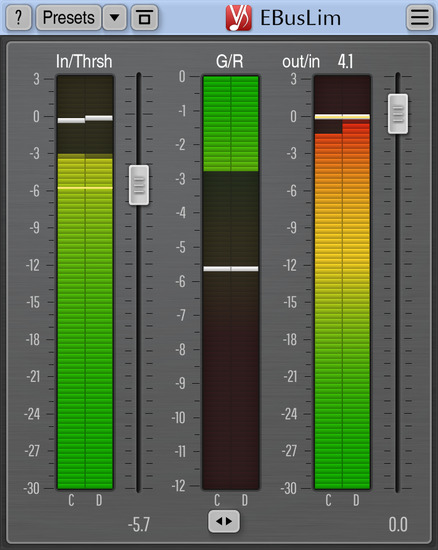 EBusLim is a brickwall peak limiter and loudness maximization AAX, AudioUnit and VST plugin for professional streaming, sound and music production applications. EBusLim implements a single EL-4-based limiter mode originally designed in Elephant mastering limiter plug-in. This mode is suitable for bus, drum bus, master bus and track processing. The design idea behind EBusLim is to produce an extremely easy-to-use yet effective limiter.
Since EBusLim only features a single processing mode the processing latency was reduced down to 0.5 milliseconds permitting the use of this limiter as master bus overload protector for both stereo and multi-channel real-time applications.
EBusLim features:
Elephant-plug-in-quality limiter mode
Extreme ease of use
Stereo and multi-channel processing
Preset manager
64-bit floating point processing
All sample rates support
0.5 ms compensated processing latency
Retina and HighDPI support
Demo version of Voxengo EBusLim can be downloaded at the Voxengo web site: https://www.voxengo.com/product/ebuslim/