Voxengo Boogex 2.4 free guitar amplifier plugin released - Press Release
July 29, 2019: Voxengo is happy to announce the release of version 2.4 of its Boogex plugin - a free guitar amplifier and cabinet simulation plugin for professional music production applications. The plugin is available in AAX, AudioUnit, VST and VST3 plugin formats, for macOS and Windows computers.
This version features the following changes:
Added Retina support on macOS, and automatic high-resolution UI size adjustment on Windows.
Added AIFF impulse file support.
Implemented disk file scrolling controls.
Up to 24% lower CPU usage on AVX2-capable processors.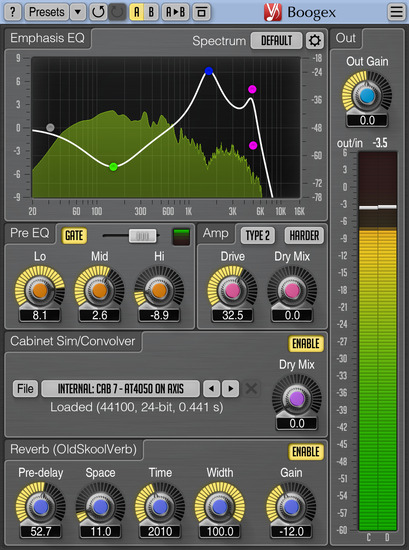 Boogex is a guitar amplifier plug-in with a variety of sound shaping features for professional music production applications. With Boogex it is possible to get a heavy distorted sound as well as slight "jazzy" saturation sound. Boogex is also able to apply any speaker cabinet impulse response (selection of built-in impulses is available). The processing latency is close to zero making it possible to use Boogex for real-time guitar processing. Boogex also includes reverberation module derived from Voxengo OldSkoolVerb reverb.
Boogex features:
Emphasis EQ
2 amplifier types
14 amplifier modes
61 built-in cabinet impulse responses
Gate module
Built-in reverb
Stereo processing
64-bit floating point processing
Preset manager
Undo/redo history
All sample rates support
Zero processing latency
Voxengo Boogex and other audio plugins can be downloaded at the Voxengo web site: https://www.voxengo.com/product/boogex/