Voxengo BMS VST 1.1 released - Press Release
Jan 9, 2006: Version update 1.1 for Voxengo BMS plug-in has been released. BMS is a bass management system PC VST plug-in for surround sound professionals. BMS is able to extract low-frequency content from non-LFE channels in up to 7.1 surround configurations. The main purpose of BMS is to evaluate low-frequency content present in non-LFE channels during mastering.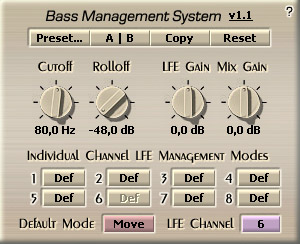 Version 1.1 introduces individual channel LFE management modes selection. This helps to evaluate low-frequency content of the non-LFE channels more conveniently.
Voxengo BMS features:
Arbitrary cutoff frequency
Arbitrary filter roll-off
Up to 7.1 surround configurations
Several LFE management modes
"A-to-B" comparisons
All sample rates supported
64-bit internal precision
Native assembler DSP code
For more information and downloads please visit the Voxengo website: https://www.voxengo.com