Voxengo Beeper 2.1 and Stereo Touch 2.1 free audio plugins released - Press Release
Jan 6, 2010: Updated Voxengo Beeper v2.1 and Voxengo Stereo Touch 2.1 free audio plug-ins are now available for download. These plug-ins can be loaded into any audio host application that conforms to the VST or AudioUnit plug-in specification. Plug-ins are compatible with Windows (XP and later versions, 32- and 64-bit) and Mac OS X (10.4.11 and later versions, Intel and PowerPC) computers (2 GHz dual-core or faster processor with at least 1 GB of system RAM recommended).
These maintenance updates include the following changes:
Beeper's "Period" parameter's minimal value is now 1 second.
"Radial" knob mode can be now disabled completely.
"Off-Line Render" indication added.
Knob read-outs now require a single click for keyboard entry.
Occasional crashes in WaveLab and other hosts fixed.
Host sample rate switch-related problem fixed.
Minor visual improvements implemented.
Plug-in initial loading time reduced.
The "VST Function Sync" global switch was added that fixes crashes in some hosts (i.e. Tracktion).
Parameter automation on AU Mac OS X now shows real parameter values.
Preset "update" function implemented in the preset manager.
Voxengo Beeper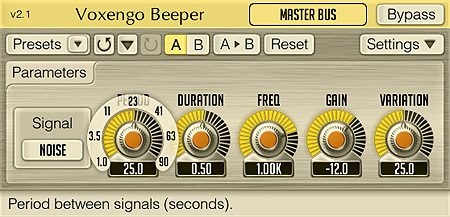 Beeper is an auxiliary audio processing AU and VST plugin which you can use to insert short beep, noise burst or silence signals to any sound material. This plug-in may help you protect your work from stealing. It is safe to apply this plug-in to any mission-critical material because plug-in does not perform any processing on the audio between signals.
Voxengo Stereo Touch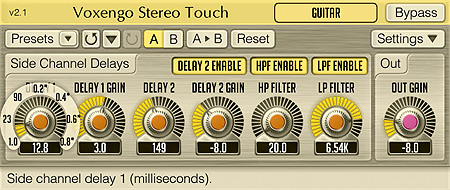 Stereo Touch plug-in implements a classic technique of transforming a monophonic track into spacious stereophonic track by means of mid/side coding technique. This plug-in is most effective on monophonic sounds without overly sharp transients: it works great for both acoustic and electric/overdriven guitars, synthetic pad sounds and even vocals.
These updated and other plugins can be downloaded at the Voxengo web site: https://www.voxengo.com/