An interesting update for Voxengo Soniformer--a massively multiband mastering dynamics processor PC VST plug-in--is now available for download.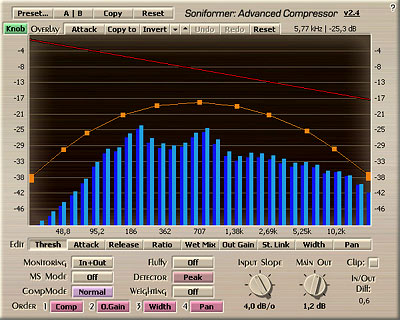 This update features several issue fixes and also introduces useful functionality: Ratio readout resolution has been increased by 1 decimal point; copy envelope function issue fixed; visual interface size increased.
Version 2.4 offers you an alternative envelope editing mode where you can adjust parameter envelopes by means of easy knobs.
This update also offers processing blocks reordering functionality.
Voxengo Soniformer features:
Spectral compression technology
Envelope-driven parameters
32-band spectrum analyzer
Mid/side processing
Gain change meters
Stereo linking envelope
Stereo width envelope
Stereo pan envelope
Knob control mode
Processing blocks reordering
Two level detector types
"A-to-B" comparisons
Factory presets
Mono-to-Stereo, Stereo-to-Stereo processing
Sample rates up to 192 kHz supported
Native assembler DSP code
64-bit internal precision
Soniformer is available for purchase on-line for USD 59.95. More information and demo downloads are available at the Voxengo website: https://www.voxengo.com.
dave rich on Sep 16, 2005, 2:03pm:
I LOVE the knob mode however,
closing the gui and opening reverts to graphic mode. Any chance of a switch in the plug to keep it in knob mode?
It's much easier to use for some reason and I can tell you it'll be getting much more use in knob mode than graphical mode.
Tell you what would be EVEN handier - a separate DLL, Voxengo Multiband maybe - with some 3-band presets.
Kind regards
Dave Rich.
Thanks for noticing this issue. I've fixed it already - you may download an updated version.
As for the new DLL, I think it is not much more different if you simply saved knob mode state as a default preset. It will be recalled after each new plug-in load then.
dave rich on Sep 27, 2005, 9:15am:
If you mean it is recalled every time the plug is loaded then that's not happenning here.
It reverts to gaphical mode for every new instance of the plug - re-opening a current instance retains the knob mode however.
Kind regards
Dave Rich
You should use 'set as default' option of the 'presets...' menu, to make this knob mode a default mode when opening new plug-in instances.
dave rich on Sep 27, 2005, 3:32pm:
Beautiful -
No more nag screen!!!
Thanks.
Kind regards
Dave Rich
| | |
| --- | --- |
| This topic was last updated 180 days ago, and thus it was archived. Replying is disabled for this topic. | |