Version update 1.2 of r8brain PRO is now available. r8brain PRO is a professional sample rate converter for Windows which offers an excellent sample rate conversion quality.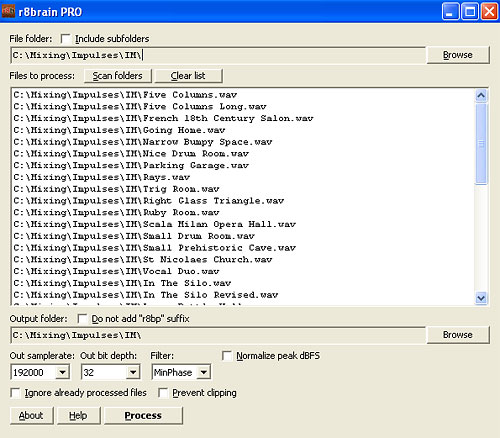 This update features several user interaction improvements. The first one is the 'Pause' button you may press to suspend processing, to temporarily release CPU resources, without stopping the whole conversion process. Another minor improvement is that progress bar now updates smoothly and displays the actual sample-accurate progress.
A new feature in this release is the 'Normalize peak dBFS' option which you may enable to normalize all processed files to a specified peak dBFS value.
As you maybe know, r8brain PRO implements sample rate conversion processing in its full: interpolation and decimation steps without exploiting any kind of simplifications; the signal is first resampled to a least common multiple sample rate which makes conversion perfect.
r8brain PRO features:
Reads 8-, 16-, 24-, 32-bit PCM and IEEE files
Reads both WAV and AIFF files
Writes 16-, 24-, 32-bit PCM and IEEE WAV files
Multi-channel file support
Extensible wave format support
EBU BWF extensions support
Linear- and minimum-phase modes
Batch support
Automatic normalization
Supports all standard sample rates
You may register on-line to obtain either a Full (USD 119.95) or Light license (USD 49.95) of r8brain PRO. For more information and downloads please visit the Voxengo web site: https://www.voxengo.com
| | |
| --- | --- |
| This topic was last updated 180 days ago, and thus it was archived. Replying is disabled for this topic. | |