Transmodder update v1.2 has been released. Transmodder is a transient-driven filtering system in PC VST plug-in format.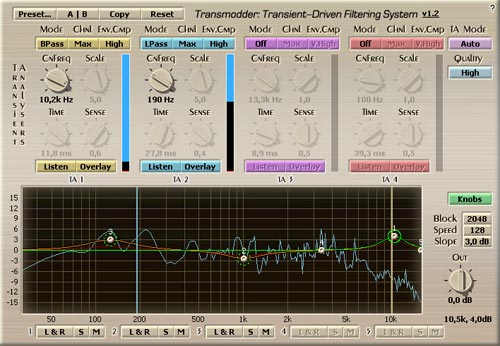 This update features several minor fixes and several visual and functional improvements: transient analyzer's center frequency is now displayed and can be adjusted on the graphical screen; Lvl.Grp parameter of the transient analyzer renamed to Env.Cmp (envelope compression) to reduce confusion.
Among the other improvements are: a new "+1" option for filter envelope source. This option generates a constant +1 envelope level forcing filter to run at the full cut or boost power all the time; overlay beeping can now accept two TA sources; wider BPass2 and BPass3 transient analyzer modes implemented: these modes offer wider band-pass filters.
For your information, Transmodder could also be called a transient modification system, since it allows the user to modify the audio material by means of dynamic filtering--in accordance with the transient content of the signal--delivering spectacular sonic pronunciation and definition.
Transmodder features:
Four transient analyzers
Five dynamic filters
Real-time spectrum analyzer
Transient detection meters
Mid/side channel processing
High quality mode
Factory presets
"A-to-B" comparisons
Mono-to-Stereo, Stereo-to-Stereo processing
All sample rates supported
64-bit internal precision
Native assembler DSP code
Transmodder is available on-line for USD 79.95. For more information and downloads please visit the Voxengo web site: https://www.voxengo.com
kylen on Jun 9, 2005, 8:52pm:
Thanks very much for these updates Aleksey! -Kyle
CeretoneAudio on Jun 11, 2005, 12:46am:
Yeah thanks Aleksey, I have been absolutelly loving transmodder lately, I originally picked it up in the bundle with elephant and was quite bewildered at first, and as a result wasnt quite sure what to do with it.
Now however >>>>> Transmodder = Secret Weapon for MAX PUNCH. Great Plugin!!!!
Thanks for your feedback!
Halljams on Jun 12, 2005, 5:28am:
we have been using it in mastering. you gotta be careful but it works, it works good.
this is definately a tough learn, but we have a good grip on the plug-in now and your new enhancements are most welcome.
it would be nice to be able to hear the filter adjustments in a listen mode as well, maby even if you had a thing where you hold down control in the graphic mode like in soniformer (which is an amazing plug-in as well)
Thanks for your feedback. I will probably implement a band-sweeping in the next release. I guess this should work better than adding dynamic filtering to the listen mode.
| | |
| --- | --- |
| This topic was last updated 180 days ago, and thus it was archived. Replying is disabled for this topic. | |