Voxengo SPAN version 2.4 update is now available for download. SPAN is a free real-time "fast Fourier transform" audio spectrum analyzer plugin for professional music and audio production applications. For the most part it was derived from Voxengo GlissEQ dynamic parametric equalizer and reproduces its spectrum analysis functionality. SPAN is available in AudioUnit and VST plug-in formats (including native 64-bit support), for Mac OS X (v10.5 and later), and Windows computers.
Note that on Mac, SPAN now supports Mac OS X v10.5 and higher only, running on Intel processors. Mac PowerPC support is not available.
List of changes in version 2.4:
Window resizing implemented.
Plug-in's popup-windows now recover last position after reopening.
Mouse backward and forward buttons can be used for parameter value selection.
Historic 1-sample output peak level statistics added.
The "Min Infrastructure" user interface display mode added.
The "Flat Level Meters" level meter display mode added.
Version change history information window added.
Memory usage optimizations implemented.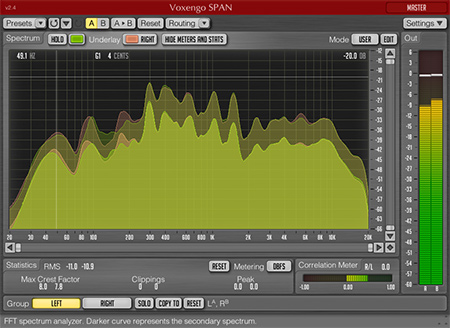 SPAN features:
Output signal power statistics
Spectrum smoothing
User interface window resizing
Clipping statistics
Correlation meter
K-metering
Stereo and multi-channel analysis
Mid/side analysis
Internal channel routing
Channel grouping
Preset manager
Undo/redo history
A/B comparisons
Contextual hint messages
All sample rates support
Voxengo SPAN and other pro audio plug-ins can be downloaded at the Voxengo web site: https://www.voxengo.com/product/span/
Masterwork on Oct 8, 2011, 7:20pm:
Hello, thanks for this update.
Unfortunately Logic 9 does not validate the AU component!
validation result: crashed validation
It crashes also on other Audio Editors.
The VST seems also having bugs, there's no sound passing through.
The previous version worked good - so i'm switching back.
Good luck!
Aleksey Vaneev
on Oct 8, 2011, 9:06pm, edited 1 time(s), last modified on Oct 8, 2011, 9:07pm:
I'm sorry to hear that! Which processor and which Mac OS X version are you using? I've compiled the plug-in and tested on Intel i5 MacBook Pro (OS X 10.6) in Logic 9.
Masterwork on Oct 8, 2011, 9:14pm:
Intel Core 2 Duo, Processor Speed: 2.4 GHz
Mac OS X 10.5.8 (Leopard) – MacBook
Masterwork: Mac OS X 10.5.8 (Leopard) – MacBook
Well, that's probably due to 10.5 version. Apple wasn't very consistent in their API when moving from 10.5 to a higher version. We'll try to fix the problem soon.
That "fluid" interface resizing option is SICK. I know everybody else is thinking the same thing too!
Airon on Oct 12, 2011, 1:37pm:
Great update. Love the resizing feature.
Thanks gentlemen.
Aleksey Vaneev
on Oct 14, 2011, 3:36pm, edited 1 time(s), last modified on Oct 14, 2011, 3:37pm:
I've just released a quick fix version 2.4.1. It fixes the following issues reported in SPAN v2.4:
* Plug-in now runs on Pentium 4 and Athlon 64 computers again.
* 64-bit VST on Mac OS X operation issue fixed.
* Crash issue reported on Mac OS X 10.5 fixed.
Masterwork on Oct 14, 2011, 11:01pm:
Thanks much Aleksey – now it works correctly! : )
–––––––––––––––––––––––––––––––––––––––
| | |
| --- | --- |
| This topic was last updated 180 days ago, and thus it was archived. Replying is disabled for this topic. | |