Voxengo Elephant version 3.8 update is now available for download. Voxengo Elephant is a mastering limiter plugin for professional audio and sound production applications, available in AudioUnit and VST plug-in formats, for Mac OS X and Windows computers. This version includes the following changes:
The "Graph" window can be resized now.
The "Graph" window now runs smoother.
Plug-in's popup-windows now recover last position after reopening.
Mouse backward and forward buttons can be used for parameter value selection.
Historic 1-sample output peak level statistics added.
The "Alt" key can now be used to adjust knob parameters synchronously in several channel groups.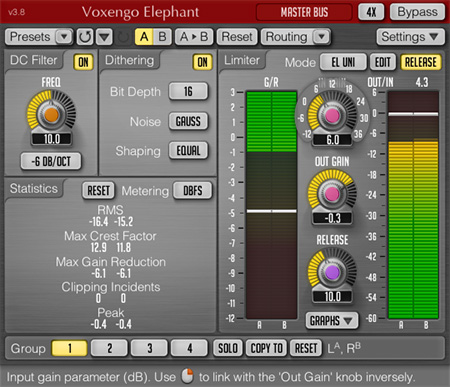 Elephant is a highly competitive plug-in for mastering applications: it features a variety of limiter modes that can be deeply customized, and a comprehensive set of level metering tools, including headroom estimation and K-metering. Elephant's built-in linear-phase oversampling is an important element in achieving high-quality peak limiting and loudness maximization.
Elephant features:
Transparent signal limiting action
10 predefined limiter modes
Limiter mode editor
Optional release stage
Noise-shaped bit-depth converter
DC offset removal filter
Waveform graph view
Stereo and multi-channel processing
Internal channel routing
Channel grouping
Up to 8x linear-phase oversampling
64-bit floating point processing
Preset manager
Undo/redo history
A/B comparisons
Contextual hint messages
All sample rates support
22-millisecond processing latency
Demo version of Voxengo Elephant and other pro audio plug-ins can be downloaded at the Voxengo web site: https://www.voxengo.com/product/elephant/
mattb on May 13, 2011, 10:36pm:
hello,
i can't seem to find the 3.8.2 update.
can you please post a link?
thanks.
There was no 3.8.2 update at all. v3.8 is the latest version. I think you've mixed it up with 3.7.2 which is now outdated.
mattb on May 14, 2011, 10:42pm, edited 2 time(s), last modified on May 15, 2011, 3:39am:
yeah, your right. i was under the impression that the .2 denoted the 64 bit version. but in any event, i can't find the download for the current 3.8 update. can you post the link? or tell me where it is? thanks. sorry for the confusion.
edit:
do i have to download elephant again or is there just an update to download?
thanks.
edit 2:
downloaded elephant again, now i have both 3.8 and 3.7.2.
i thought the update would be applied to 3.7.2 and it would become 3.8.
The latest version can be downloaded via the User Area. Also make sure you are replacing the existing Elephant.DLL, otherwise you'll have two versions around.
| | |
| --- | --- |
| This topic was last updated 180 days ago, and thus it was archived. Replying is disabled for this topic. | |