Voxengo Marvel GEQ version 1.1 update is now available for download. Marvel GEQ is a freeware linear-phase 16-band graphic equalizer plugin for professional audio and sound production applications, available in AudioUnit and VST plug-in formats, for Mac OS X and Windows computers.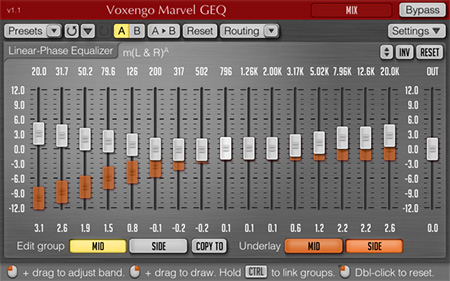 Version 1.1 implements the following changes:
1-sample delay issue fixed.
Per-group reset button added.
Fixed a chaotic movement of the 2nd band when other bands are adjusted.
Fixed output gain readout displacement.
Marvel GEQ features:
16-band graphic equalizing
Freehand drawing mode
Linear-phase equalizing
+/- 12 dB gain range per band
Stereo and multi-channel processing
Internal channel routing
Channel grouping
Mid/side processing
64-bit floating point processing
Preset manager
Undo/redo history
A/B comparisons
Contextual hint messages
All sample rates support
9-millisecond processing latency
Marvel GEQ and other pro audio plug-ins can be downloaded at the Voxengo web site: https://www.voxengo.com/product/marvelgeq/
macho on Feb 15, 2011, 8:36am:
Thanks! - now everything is as it was supposed to be. Fun to use.
macho on Mar 5, 2011, 9:08pm:
Hi
really enjoy this plug-ins linear phase clarity low latency and routing
but some improvements would be good to make it excellent
-per channel bypass -or just to make global bypass like per channel if multi channel mode enabled.because global bypass is a common feature of any daw with delay compensation preserved -so not important per plug-in.
dont like keys but sometimes for accurate work this is inevitable -
-shift +right mouse - like draw mode but for zeroing bands in desired area instead of doubleclicking or reset whole the curve
-ctrl +right mouse and drag - for boosting or attenuating area around center band for smoother easier quicker adjustment
Thanks again!
Thanks for your suggestions - per channel bypass won't be implemented - this feature will be available in commercial plug-ins.
We will probably implement EQ freehand reset, but it will be Ctrl+Right click.
The "smoothed" adjustment you are talking about may be implemented, but I can't tell for sure right now.
macho on Mar 8, 2011, 3:47pm:
didnt even doubt!-i know you are da man!
but cant forgive discrimination about first paragraph!:(
and have one more feature request. what about latest news via creeping line in hints area. i mean currency rates, exchange news and weather forecast if you dont mind :D
macho on Mar 9, 2011, 6:58am:
ok here is an idea!
i often work\play in darkness and its impossible to type or even recognize a key on pc keyboard(which is under midi under table-quite far...) so i need most controls available via mouse.
now btw there is a cool feature in eq left+right mouse=precise drag\band adjustment. but could you provide "freehand reset" with right(first)+left mouse combination to get all first need features with mouse! and ctrl+right click as supplemental for ex.
and about "bypass per channel"-honestly i dont think its an advanced magic feature but a logic fulfilment of a concept of equalizer plug-in.
finally "smoothed" adjustment is the less important feature suplementary-alternative -nice but not so desirable actually - i start from draw for draft curve and then go to precise adjustment of each band.
EQ freehand reset via Ctrl+drag was already available in CurveEQ, for example - so, I'll use the same combination in Marvel GEQ.
| | |
| --- | --- |
| This topic was last updated 180 days ago, and thus it was archived. Replying is disabled for this topic. | |