Voxengo PHA-979 version 2.1 update is now available for download. Voxengo PHA-979 is a track phase and time alignment audio plug-in, available in AudioUnit and VST plug-in formats, for Mac OS X, Windows XP and Windows Vista computers.
Version 2.1 update implements a very useful feature - multi-band correlation meter that greatly simplifies phase- and time-aligning process. You may routinely use the correlation meter to configure delay and phase parameters with a highest level of precision possible. Correlometer also supports an external side-chain input.
Other changes:
Crash problem fixed with non-center panning setting.
Delay and phase dimming problem fixed.
Latency change reporting fixed in AudioUnits.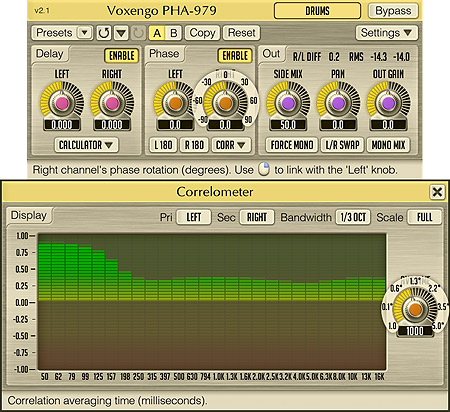 PHA-979 features:
Arbitrary signal phase control
Linear-phase design
Multi-band correlation meter
Positive/negative time delaying
Delay time calculator
Mid/side channel balance control
Stereo output panning
Stereo and mono processing
64-bit floating point processing
Preset manager
Undo/redo history
A/B comparisons
Contextual hint messages
The introductory price offer of US$69.95 is still effective. The offer ends on the 9th of June 2009 (less than two weeks left). Demo version of Voxengo PHA-979 can be downloaded at the Voxengo web site: https://www.voxengo.com/
Dandruff on Jun 1, 2009, 9:22pm:
Nice update!
modumo on Jun 6, 2009, 5:48am:
As user of the previous Version 1.n of PH979 - i would like to upgrade to V2 - but I can't find any pricing for this?!?!? Please advise!
Some very nice features added in V2!!
Michael
You may upgrade your license at the User Area.
| | |
| --- | --- |
| This topic was last updated 180 days ago, and thus it was archived. Replying is disabled for this topic. | |