We are pleased to release version 2 of PHA-979 track phase alignment pro audio plug-in. PHA-979 allows professional mixing engineers to time- and phase-align any sound material to achieve better sonic coherence and clarity in the mix.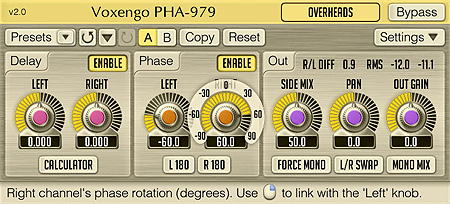 Version 2 features the following improvements over version 1:
Multi-platform support
Mid/side balance control
RMS signal level readouts
Positive/negative time delaying
Delay time calculator
L/R channel swap function
Undo/redo
Preset manager
User interface coloration
User interface re-scaling
Plug-in instance naming
Bypass switch
PHA-979 is a professional audio plug-in which allows you to apply an arbitrary phase shift to sound material. What is meant by the phase shift here is simultaneous shifting of all frequencies across the active frequency range of the signal by the given value in degrees. This is achieved by linear-phase design.
PHA-979 can be very useful during mixing sessions, especially when working with the sound material recorded through array of microphones. In many cases this allows one to solve various phasing problems arising from the microphone placement chosen during the tracking session. In other cases this process may help one to align drums to each other and to align the bass to drums and other instruments bringing punch and time coherence not attainable by the ordinary time-aligning alone.
Beside phase shifting PHA-979 features an ordinary positive and negative time delaying that eliminates the need to move in-track events in the sequencer when doing time alignment over any set of recorded tracks.
PHA-979 also provides mid/side channel balance and panning controls that permit you to record stereo microphone pairs into a single stereo track without resorting to dual mono recording (on separate tracks) which usually becomes time-consuming in a further editing.
Moreover, you can use functionality PHA-979 provides to setup headphone monitoring so that it closer resembles sound stage produced by stereo speaker monitoring.
Voxengo PHA-979 features:
Arbitrary signal phase control
Linear-phase design
Positive/negative time delaying
Delay time calculator
Mid/side channel balance control
Stereo output panning
Stereo and mono processing
64-bit floating point processing
Preset manager
Undo/redo history
A/B comparisons
Contextual hint messages
PHA-979 plug-in can be loaded into any audio host application that conforms to the VST or AudioUnit plug-in specification. Plug-in is compatible with Windows XP, Windows Vista (32- and 64-bit) and Mac OS X 10.4.11 and above (Intel and PowerPC) computers (2 GHz dual-core or faster processor with at least 1 GB of system RAM recommended). A separate binary distribution file is available for each target computer platform for each plug-in format.
One-month introductory price of USD 69.95 is now effective, which is 20% off the regular price. Upgrading from the previous version costs USD 44.95 if previous version was purchased earlier than 90 days from now: otherwise upgrade is free during this grace period. Demo version of PHA-979 can be downloaded at the Voxengo web site: https://www.voxengo.com/
| | |
| --- | --- |
| This topic was last updated 180 days ago, and thus it was archived. Replying is disabled for this topic. | |