We are happy to release a new professional audio plug-in for Windows Vista, Windows XP and Mac OS X computers running AudioUnit- and VST-compatible audio host applications.
Voxengo LF Max Punch is a professional audio effect plug-in for music and sounds where low-frequency thump and punch are most welcome, and where distortion is applied specifically to bring the bass sound to life. LF Max Punch provides a low-frequency effect specially designed for serious contemporary music producers offering them a convenient tool for applying a smooth punch and oomph to audio tracks and sounds.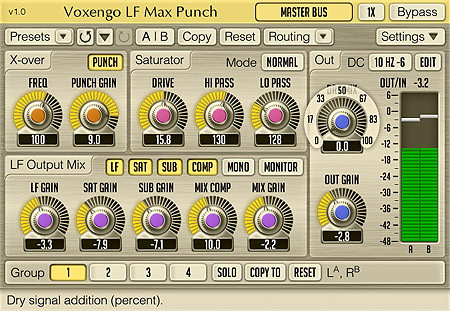 LF Max Punch plug-in dynamically emphasizes selected bass frequency band, applies a smooth saturation over it, and produces additional sub-harmonic content, with the ability to blend it with the original bass band sound. Optional compression can then be applied to the resulting low-frequency sound. LF Max Punch first splits the broad-band signal into low- and high-frequency bands and then applies the aforementioned effects to the lower band only.
This effect can be applied over a wide range of sound material: drum tracks, bass tracks, contemporary music mixes: rap, trance, club music; also rock music can benefit from LF Max Punch's low-frequency enhancements.
LF Max Punch features:
Puncher module
Saturator module (2 modes)
Sub-harmonic synthesizer
Built-in compressor
Effect monitoring switch
Multi-channel processing
Internal channel routing
Channel grouping
Mid/side processing
Up to 8x oversampling
64-bit floating point processing
Preset manager
Undo/redo history
A/B comparisons
Contextual hint messages
Voxengo LF Max Punch replaces previously available Voxengo LF-Max and Voxengo LF-Punch plug-ins since it combines and further enhances their functionality.
Voxengo LF Max Punch is compatible with Windows XP, Windows Vista (32- and 64-bit) and Mac OS X 10.4.11 and above (Intel and PowerPC) computers (2 GHz dual-core or faster processor with at least 1 GB of system RAM recommended). A separate binary distribution file is available for each target computer platform for each plug-in format.
One-month introductory price of USD 55.95 is now effective, which is 20% off the regular price. Upgrading from both previously available LF-Max and LF-Punch plug-ins costs USD 34.95 if they were purchased earlier than 90 days from now: otherwise upgrade is free during this grace period. Demo version of LF Max Punch can be downloaded at the Voxengo web site: https://www.voxengo.com/
zvenx on Dec 2, 2008, 10:41pm, edited 1 time(s), last modified on Dec 2, 2008, 7:43pm:
Up to 5 pm today I reminded myself, phew, you are not buying any more plugins for this year..... I got an email from you about 30 mintues later, tried it and had to buy it.....When my kids dont' get xmas gifts this year I am sending them to your house :-)
Seriously, as usual job well done.
I was one of those who for years 'complained' about the previous GUI's and that I wished your stuff was also on the macintosh.. and you listened to us and complied and they sound so damn good...
I primarily do jingles which means I do almost every genre and have to do them quickly..... this will come in very handy in dancehall,reggae, hip hop, club and so many other bass heavy genres that I am required to compose and produce for my cilents.
Thanks
rsp
Thank you for your feedback! Tell your kids you've got it with discount (well, a poor excuse, I know :-).
zvenx on Dec 2, 2008, 11:01pm:
:-). I was of course kidding about the XMas presents.. but great stuff.
rsp
| | |
| --- | --- |
| This topic was last updated 180 days ago, and thus it was archived. Replying is disabled for this topic. | |