VariSaturator is an audio effect plug-in designed to apply saturation effects over audio material. VariSaturator can be used both to boost the loudness of the audio tracks without increasing their peak levels proportionally, and to apply subtle harmonic coloration that makes tracks sound more pronounced and polished.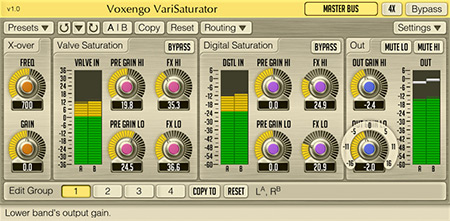 VariSaturator features two saturation modules which are applied in sequence, in two-band mode each. The valve saturation module applies asymmetric valve processing that closely resembles sound of valve amplifier cascade, and being a digital emulation, it applies its best sonic features without side artifacts like noise, strong phase shift and high frequency roll-off. Another saturation module VariSaturator features is a digital "waveshaping" saturator with feedback topology. This module applies smooth two-band saturation which can amplify signal level and apply desirable harmonic coloration.
VariSaturator can be used in a variety of audio processing cases: you may apply it with good results over drum, bass and vocal tracks, over sub-mixes and of course over complete mixes. Since VariSaturator does not provide a brick-wall limiting performance, when applied over full mixes, it is best used for the final loudness boost inserted before the finishing brick-wall limiter.
Note, though, that since VariSaturator applies distortion, it may damage original sonic qualities of the audio material if used incautiously. For initial evaluation of VariSaturator's sonic performance you can use the factory presets VariSaturator comes with.
VariSaturator features:
Two-band processing
Valve and digital saturation
Multi-channel processing
Internal channel routing
Channel grouping
Mid/side processing
64-bit floating point processing
Preset manager
Undo/redo history
A/B comparisons
Contextual hint messages
VariSaturator can be loaded into any audio host application that conforms to the VST or AudioUnit plug-in specification. Plug-in is compatible with Windows XP, Windows Vista (32- and 64-bit) and Mac OS X (Intel and PowerPC) computers (2 GHz dual-core or faster processor with at least 1 GB of system RAM recommended). A separate binary distribution file is available for each target computer platform for each plug-in format.
One-month introductory price of $55.96 is now effective which is 20% off the regular price. Demo version of VariSaturator can be downloaded freely at the Voxengo web site: https://www.voxengo.com/
zvenx on Feb 22, 2008, 4:14pm, edited 3 time(s), last modified on Feb 22, 2008, 3:56pm:
It sounds fantastic. Just bought it.
Aleksey, as someone who on several forums has bitterly complained about your GUI, I would like to make three comments.
1) this new GUI with the skinnability it has as well.....is soooooooooooo much better. thanks.
2) The layout is so much better...... for preset users like me the stuff is now simple and for the power users the power is still there to tweak..
3) That it is also macintel... is superb....
Just want to say thanks for listening.....you will have me as a more frequent customer once the older stuff is ported and re-guied....
a Job well done.
thanks
rsp
Thank you for your response!
ildooss on Feb 22, 2008, 7:21pm:
Wow! Now I can get the loudest mix. Sounds great!
fiberlight on Feb 23, 2008, 1:40pm:
Aleksey,,,,, NICE ! I email lots of music.... most are very busy , so less ear fatigue at lower volume is more welcome ! ...like the new color choice's ... pop up transparent over the controll keeps my math going when in the mix... A Status Line !! my freinds over in the U.K. going to luv this... me too ! John J Krupinski
Thanks! Glad you like it!
SteveE9C6 on Feb 23, 2008, 3:51pm:
This is the weirdest thing... I've repeatedly tried to download the demo. When it extracts, there is no executable file. I've never had any problem with my other Voxengo plugs, so this is baffling.
SteveE9C6: This is the weirdest thing... I've repeatedly tried to download the demo. When it extracts, there is no executable file. I've never had any problem with my other Voxengo plugs, so this is baffling.
Sorry, there is DLL file you should extract into the plug-ins folder. EXE setups proved to be inconvenient in a professional environment where you may need to move plug-in folders around.
SteveE9C6 on Feb 23, 2008, 7:50pm:
Thank you sir. Works like a charm.
Now to the purchase page!
| | |
| --- | --- |
| This topic was last updated 180 days ago, and thus it was archived. Replying is disabled for this topic. | |