Voxengo is most happy to present you a new universal compressor PC VST plug-in: Marquis. This compressor incorporates all digital signal processing advancements we have made so far. You may find a very smooth compression performance in this compressor coupled with a very harmonic-rich sound, both suitable for mixing and mastering.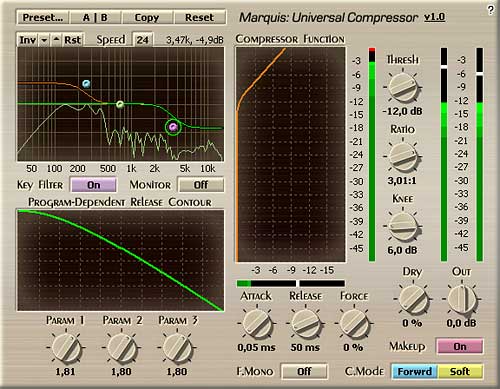 Marquis features a unique signal level detector algorithm which creates a very open, punchy compressed sound with an impressive transient response. Beside this, Marquis compressor offers you a classic feedback (opto) compression mode switchable to a more common feed-forward compression. Both modes perform differently, but equally well.
While Marquis works fine with normal compression levels it works exceptionally well for brutal "tape" drum compression. Program-dependent compression release stage can be controlled precisely via special "contour" parameters this compressor possesses.
All these excellent features are backed up by a responsive and consistent graphical representation. You may visually control compression function, release contour, key signal filtering EQ curve, level detector, gain reduction and output signal meters.
We would like to focus your attention on a new level meter design we have implemented for Marquis. These level meters are built up from four RMS meters all tuned to different integration times. Such design allows you to evaluate dynamics of the signal and see the constant signal level together with transient signal peaks. Conventional level meters are unable to deliver such information which by itself is most useful when setting up dynamics processing.
Voxengo Marquis Compressor features:
Variable knee design
Harmonically enhanced sound
Release contour controls
Key signal filtering
4-level meters
"A-to-B" comparisons
Factory presets
Mono-to-Stereo, Stereo-to-Stereo processing
All sample rates supported
64-bit internal precision
Native assembler DSP code
Marquis Compressor is available for purchase now for the introductory price of USD 69.95 which will be effective for two weeks only. Demo version can be obtained on-line at the Voxengo website: https://www.voxengo.com.
sounddesigner on Oct 27, 2005, 2:12am:
This is a very nice compressor, i am a broke man at this moment but i will be at you in about a week to purchase this plugin. It seems as if the compression taylors to audio very well when applied, very precise sounding,and just as you say a "harmonic rich sound",aswell as smooth! And truly sounds like a universal compressor!Great job!It hurts me that i can't buy it now!
morelia on Oct 27, 2005, 7:47am:
sounddesigner: It hurts me that i can't buy it now!
Me too. Any upgrade path from Crunchessor?
Thank you for your feedback!
BTW, I've uploded update 1.0.1 which fixes VST ID probelm (version 1.0 had VST ID which was used by another Voxengo plug-in).
There won't any upgrade path from Crunchessor as these are very different plug-ins. It's not a new version of Crunchessor.
riderelli on Oct 27, 2005, 9:18am:
Will you include it in any bundle mixing option?
Cheers,
andrea
...andrea riderelli & aliusmodum...
la musica barocca oggi
I have no such plans, but I will decide this during the next two weeks.
daverich on Oct 30, 2005, 8:56am, edited 1 time(s), last modified on Oct 30, 2005, 6:19pm:
this compressor is brilliant.
I recommend it heartily ( and I'm a uad owner)
Kind regards
Dave RIch
Glad you like this compressor! Thank you!
blueboy on Nov 10, 2005, 7:46pm:
This compressor has taken Voxengo to a whole new level!
All the plugins sound amazing, but the Marquis compressor is a work of art. I am truly blown away by the sound of this plugin.
Thankyou Aleksey!
Regards,
JL
| | |
| --- | --- |
| This topic was last updated 180 days ago, and thus it was archived. Replying is disabled for this topic. | |