Updated Voxengo Sound Delay v1.7, Voxengo AnSpec v1.2 and Voxengo Latency Delay v2.4 freeware audio plugins are now available for download. These plugins are available in AAX, AudioUnit, VST and VST3 plugin formats (including native 64-bit support), for Mac OS X (v10.6 and later), and Windows computers.
These updates feature AAX-64 support and include various minor improvements.
Voxengo Sound Delay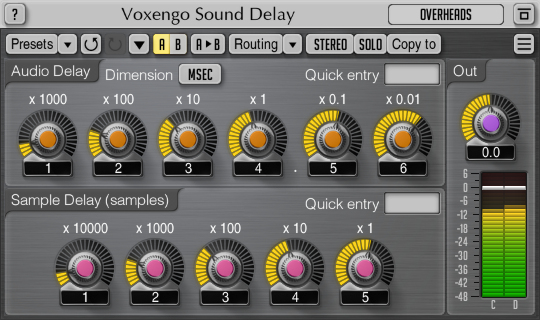 Sound Delay is an auxiliary multi-channel signal delaying AAX, AU and VST plugin for professional audio applications. You may specify delay time in both milliseconds and samples, with a high level of precision. This plugin – being technical in its purpose – provides a basic signal delaying function only, without signal feedback or modulation capabilities.
https://www.voxengo.com/product/sounddelay/
Voxengo AnSpec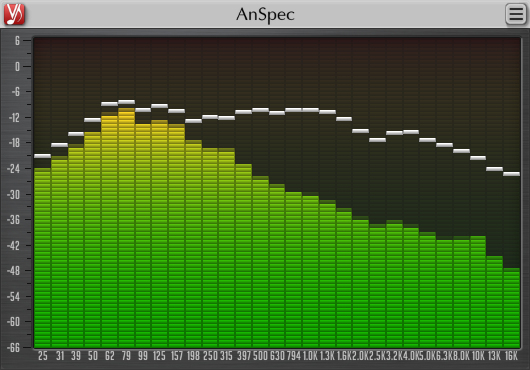 AnSpec is an analog-style one/third-octave spectrum analyzer AAX, AU and VST plugin for professional music production applications. It was designed to be a handy visual feedback tool for those who like visual smoothness and easiness of use of analog analyzers. AnSpec also provides peak level indication.
https://www.voxengo.com/product/anspec/
Voxengo Latency Delay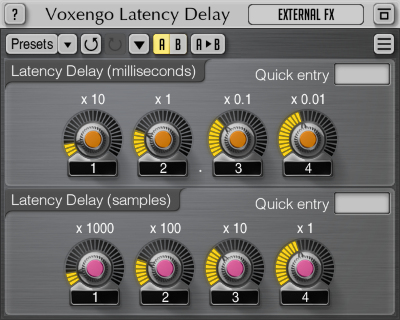 Latency Delay is an auxiliary AAX, AU and VST plugin which allows you to compensate latency produced by any audio plugins, instruments and processes which produce latency but do not try to report it to the host audio application. Latency Delay introduces 10000 samples latency itself and delays the audio signal by 10000 minus the specified amount of samples or milliseconds, thus eliminating the unreported latency. Please note that host audio application should support the latency compensation itself for this plugin to function properly.
https://www.voxengo.com/product/latencydelay/
These updated and other pro audio plug-ins can be downloaded at the Voxengo web site: https://www.voxengo.com/group/free-vst-plugins/
| | |
| --- | --- |
| This topic was last updated 180 days ago, and thus it was archived. Replying is disabled for this topic. | |