Voxengo Elephant version 4.2 is now available for download. Voxengo Elephant is a mastering limiter plugin for professional audio and sound production applications, available in AudioUnit, VST and VST3 plug-in formats (including native 64-bit support), for Mac OS X (v10.6 and later), and Windows computers.
This version includes the following changes:
Implemented color scheme editor with load and save functions.
Added "Brown" and "White" color schemes.
Redesigned the infrastructure controls.
Made internal channel names start at "C" to reduce confusion with the A/B comparison buttons.
Reduced plugin file size considerably for faster loading.
Reduced the overall memory consumption.
Fixed the "out/in" meter which was not taking the "Out Gain" into account.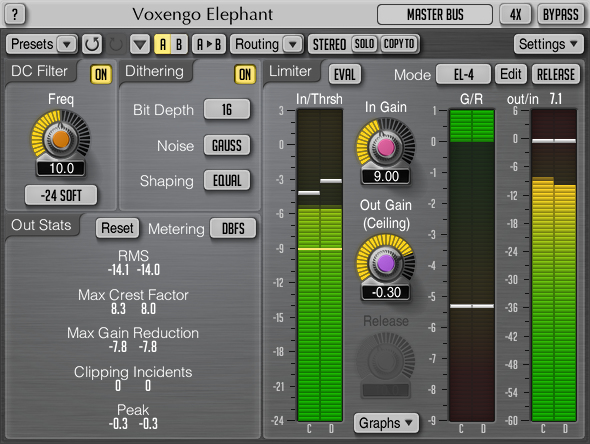 Elephant is a highly competitive plug-in for mastering applications: it features a variety of limiter modes that can be deeply customized, and a comprehensive set of level metering tools, including headroom estimation and K-metering. Elephant's built-in linear-phase oversampling is an important element in achieving high-quality peak limiting and loudness maximization without inter-sample overshoots.
Elephant limiter can be used for mixing and mastering of both stereo and multi-channel music and sound material, at any standard sample rate. Limiting process can be visualized both as gain reduction meter and real-time graph.
Elephant features:
Transparent signal limiting action
10 predefined limiter modes
Limiter mode editor
Optional release stage
Noise-shaped bit-depth converter
DC offset removal filter
Waveform graph view
Stereo and multi-channel processing
Internal channel routing
Channel grouping
Up to 8x linear-phase oversampling
64-bit floating point processing
Preset manager
Undo/redo history
A/B comparisons
Contextual hint messages
All sample rates support
22-millisecond processing latency
Demo version of Voxengo Elephant can be downloaded at the Voxengo web site: https://www.voxengo.com/product/elephant/
Thanks Aleksey! Lovely to see Bypass back and OS and Bypass on the minimum infrastructure modes!
| | |
| --- | --- |
| This topic was last updated 180 days ago, and thus it was archived. Replying is disabled for this topic. | |