Voxengo is happy to announce the release of Spatifier - a "mono to stereo" spatial enhancer plugin for professional sound and music production applications. This plugin can be effectively used to turn mono tracks into spatially-enhanced stereo tracks: it works great for clean and distorted guitars, synth instruments, piano, organ, back vocals and other sounds. Beside that Spatifier can be used to "densify" the sound of reverb sends, and to add "body" to thin and flat sounds.
Spatifier decorrelates the signal in the left and right channels while retaining the "mono compatibility". Such decorrelation creates the "as wide as possible" surround effect. This effect can be usually used in place of double-tracking technique. The spatial impression can be adjusted in the range from the "in your face" direct to a distant reverby sound.
Spatifier achieves its result by first designing a complex impulse response that is then used by its internal convolution processor. The impulse response is defined by means of graphic equalizer-like controls (which can be adjusted in a freehand mode with the right mouse button). This makes it possible to set the spatial effect for each frequency band individually. In many practical cases Spatifier adds a great deal of warmness and enriches the timbre of the sound being processed.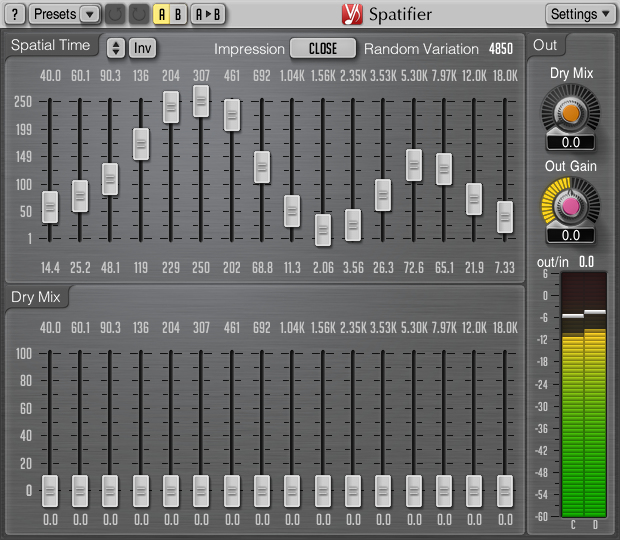 Spatifier features:
16 frequency bands
6 spatial impressions
Selectable random variations
Stereo processing
64-bit floating point processing
Preset manager
Undo/redo history
All sample rates support
Zero processing latency
Introductory price of USD 59.95 will be effective for two weeks from now, which is 15% off the regular price of USD 69.95. Demo version of Spatifier can be downloaded freely at the Voxengo web site: https://www.voxengo.com/product/spatifier/
Mark on Mar 31, 2015, 12:06am:
Hi ,
This plugin is crashing in Studio One 2.6.5 - it just doesn't load in when I select it, then after a few seconds I get an app crash, I mean Studio One does not crash for anything really.! - Just thought I'd let you know.
All other Voxengo plugins are fine & stable.
I'm running Windows 7 64bit.
Cheers.
We know this issue, and it's almost fixed - I will release a fixed update soon.
The crash was fixed in the version 1.1 I have just released. I also extended the introductory offer time.
| | |
| --- | --- |
| This topic was last updated 180 days ago, and thus it was archived. Replying is disabled for this topic. | |