Updated Voxengo Sound Delay v1.6 and Voxengo Tube Amp v2.5 freeware audio plugins are now available for download. These plugins are available in AudioUnit, VST and VST3 plugin formats (including native 64-bit support), for Mac OS X (v10.6 and later), and Windows computers.
These updates feature the following additions:
Added VST3 support.
Implemented color scheme editor with load and save functions.
Added "Brown" and "White" color schemes.
Redesigned the infrastructure controls.
Sound Delay: Added automation parameters for groups 2, 3 and 4.
Tube Amp: Fixed rare crashes.
Voxengo Sound Delay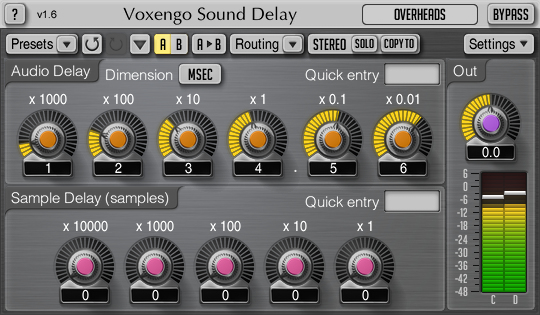 Sound Delay is an auxiliary multi-channel signal delaying AU and VST plugin for professional audio applications. You may specify delay time in both milliseconds and samples, with a high level of precision. This plugin – being technical in its purpose – provides a basic signal delaying function only, without signal feedback or modulation capabilities.
https://www.voxengo.com/product/sounddelay/
Voxengo Tube Amp

Tube Amp is an audio effect AU and VST plugin that applies asymmetric tube triode overdrive usually found in single-tube microphone pre-amp boxes. The sound this plugin produces varies from a mild "warm" overdrive to a fuzzy distortion.
https://www.voxengo.com/product/tubeamp/
These updated and other pro audio plug-ins can be downloaded at the Voxengo web site: https://www.voxengo.com/group/free-vst-plugins/
| | |
| --- | --- |
| This topic was last updated 180 days ago, and thus it was archived. Replying is disabled for this topic. | |