Voxengo SPAN version 2.6 update is now available for download. SPAN is a free real-time "fast Fourier transform" audio spectrum analyzer plugin for professional music and audio production applications. For the most part it was derived from Voxengo GlissEQ dynamic parametric equalizer and reproduces its spectrum analysis functionality. SPAN is available in AudioUnit, VST and now VST3 plug-in formats (including native 64-bit support), for Mac OS X (v10.5 and later), and Windows computers.
List of changes in version 2.6:
Right-clicking on the spectrum will copy the frequency pointer to the clipboard.
"dBFS.30" and "dBFS.15" metering options added.
1/9 and 1/12 octave smoothing options added.
65536 block size option added.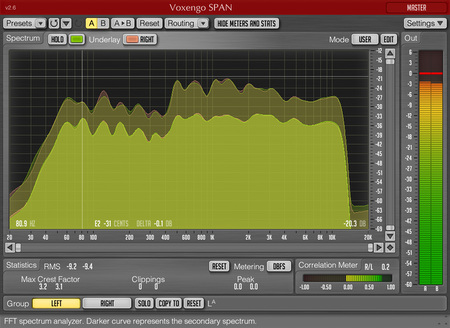 SPAN provides you with a very flexible "mode" system which you can use to setup your spectrum analyzer preferences. You may specify Fourier block size in samples, FFT window overlap percentage, spectrum's visual slope. Beside that you can choose to display secondary spectrum of a desired type (e.g. real-time maximum, all-time maximum). Spectrum can be smoothed out visually for an easier examination.
SPAN features:
Output signal power statistics
Spectrum smoothing
User interface window resizing
Clipping statistics
Correlation meter
K-metering
Stereo and multi-channel analysis
Mid/side analysis
Internal channel routing
Channel grouping
Preset manager
Undo/redo history
A/B comparisons
Contextual hint messages
All sample rates support
Voxengo SPAN and other pro audio plug-ins can be downloaded at the Voxengo web site: https://www.voxengo.com/product/span/
UnsungNote on Sep 9, 2013, 5:35pm:
When I tried to install SPAN 2.6 on 32-bit Window 7 SP1, the installer threw the following error:
Runtime Error (at 1:1484)
Internal error: Cannot expand "cf64" constant on this version of Windows.
I understand that adding VST3 expands the number of OS+VST combinations to four. However, I like your ZIP file distribution method better than the EXE installer. For one, it eliminates the risk that the installer you build in 64-bit Windows is incompatible with 32-bit Windows. I prefer the ZIP file because I can access the documentation there conveniently (double-clicking on a PDF or TXT file in a ZIP "folder" works in Windows). I also prefer the ZIP file because the single DLL file is quick and easy to copy to the right folder and to delete when wanting to uninstall.
Aleksey Vaneev
on Sep 9, 2013, 6:52pm, edited 1 time(s), last modified on Sep 9, 2013, 7:15pm:
I'm sorry for this issue - I will release an updated installer soon.
...Just posted it.
quark on Oct 2, 2013, 8:58am:
It would appear that the download of Span held on the Voxengo server isn't actually 2.6 but 2.5.
the file I downloaded was named as:
VoxengoSPAN_26_Win32_64_VST_VST3_setup
the max blocksize available 32768 not 65536
no right click to save frequency to clipboard.
interface shows span 2.5
While I am here I'd just like to thank you guys for an awesome Analyzer, I use it on every project.
Much Apppreciated.
Make sure you've installed it correctly, the setup file definitely has version 2.6, not 2.5.
quark on Oct 3, 2013, 8:39am:
Thanks Aleksey Vaneev,
your reply gave me the confidence to investigate further.
it turned out to be an issue with Ableton Live.
i'd previously installed Span to the root of vstplugins and when i installed 2.6 it created a Voxengo directory... for some reason even though i was selecting the new version via its plugin directory Ableton kept falling back to 2.5.
i deleted 2.5 and now the problem is solved. :)
while i am here may i ask how accurate is the pitch detection in span 2.6?
with its new block block size the resolution seems to be about the best i've seen so far in a vst plugin.
cheers.
If you use zoom, the pitch detection is about to be perfect, even with average block size settings, because SPAN performs cubic interpolation in zoomed mode. Such interpolation usually catches the true peak precisely.
quark on Oct 4, 2013, 10:33am:
Thanks Aleksey,
Yeah after some more tests i did notice especially on a block size of 32768 of just how precise Span is.
I've never seen any other VST that can zero in on fundamental frequencies in such a precise and clear manner.
cheers.
| | |
| --- | --- |
| This topic was last updated 180 days ago, and thus it was archived. Replying is disabled for this topic. | |