Voxengo VariSaturator version 1.10 update is now available for download. VariSaturator is an audio effect plug-in designed to apply saturation and overdrive effects to audio material. VariSaturator is available in AudioUnit and VST plug-in formats (including native 64-bit support), for Mac OS X (v10.5 and later), and Windows computers.
Note that on Mac, VariSaturator now supports Mac OS X v10.5 and higher only, running on Intel processors. Mac PowerPC support is not available.
Version 1.10 includes the following changes:
Plug-in's popup-windows now recover last position after reopening.
The "Min Infrastructure" user interface display mode added.
The "Flat Level Meters" level meter display mode added.
Post-output gain "Sat" saturation switch added.
Native 64-bit AudioUnit and VST support on Mac OS X added.
Fixed user interface freezing on Mac OS X 10.8.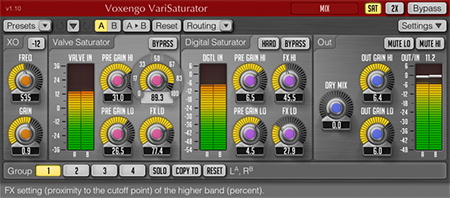 For your information, VariSaturator is an audio effect plug-in designed to apply saturation effects over audio material. It can be used both to boost the loudness of the audio tracks, and to apply subtle or strong harmonic coloration. VariSaturator features two saturation modules which are applied in sequence, in two-band mode each, and implements a wet/dry mix parameter thus offering a comprehensive control over saturation characteristic.
VariSaturator features:
Two-band processing
Selectable crossover filter steepness
Valve and digital saturation
Multi-channel processing
Internal channel routing
Channel grouping
Mid/side processing
Up to 8x oversampling
64-bit floating point processing
Preset manager
Undo/redo history
A/B comparisons
Contextual hint messages
All sample rates support
Zero processing latency
Voxengo VariSaturator can be download at the Voxengo web site: https://www.voxengo.com/product/varisaturator/
stry57 on Aug 25, 2012, 12:30pm:
Thanks for the Saturation button! I will be using this plug a lot more from now on.
Very pleased.
| | |
| --- | --- |
| This topic was last updated 180 days ago, and thus it was archived. Replying is disabled for this topic. | |