An updated version 1.3 of Voxengo TransGainer is now available for download. Voxengo TransGainer implements an audio signal envelope adjustment algorithm that reacts on transients rather than on a signal's loudness level. TransGainer is available in AudioUnit and VST plug-in formats (including native 64-bit support), for Mac OS X (v10.5 and later), and Windows computers.
This version implements a completely new processing algorithm which we called "Precise" since it offers an unprecedented precision of transient detection and high sonic quality of transient adjustments.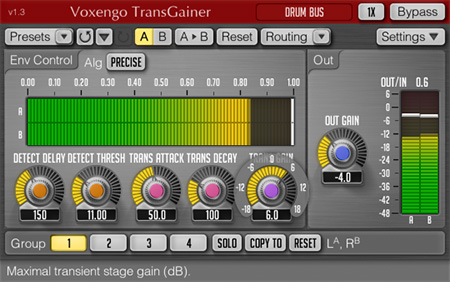 TransGainer allows you to specify positive or negative gain adjustment for a sound's transient stage. You can also choose an expected average time between transients and transient threshold level so that the algorithm delivers you the most precise results possible. With the help of TransGainer you can pass the border from good to excellent audio recordings.
TransGainer features:
Transient stage loudness adjustments
Two different processing algorithms
5 processing modes in the "legacy" algorithm
Transient-to-transient time control
Stereo and multi-channel processing
Internal channel routing
Channel grouping
Mid/side processing
Up to 8x oversampling
64-bit floating point processing
Preset manager
Undo/redo history
A/B comparisons
Contextual hint messages
All sample rates support
Zero processing latency
Voxengo TransGainer end-user license is available for purchase on-line. Demo version of Voxengo TransGainer can be downloaded at the Voxengo web site: https://www.voxengo.com/product/transgainer/
Oh my god, I think I love you. That Transient Dection option... did you get that idea from me or was it just a case of great minds think alike!? I suggested that EXACT feature a little over a year ago, not sure if you remember when I did that or not, but now it's in the actual program! Holy crap! I never expected that at all!
And this new mode, I'll probably love that too, but for now, I've yet to learn how to make it do what I want so I can't say that yet. Even still, wow. This is a totally underrated plugin.
Thanks for your feedback!
therealside on Feb 20, 2012, 11:47pm:
This release is causing problems in Wavelab 6 on PC XP Home 32bit. I have used 1.2 with no issue but after one mastering render there are all kinds of volume artifacts and I have to reload Wavelab to do another instance.
I love this plugin, gives that perfect bit of shine on masters.
therealside, sorry to hear that! Do you get the artifacts in the newer "Precise" mode?
| | |
| --- | --- |
| This topic was last updated 180 days ago, and thus it was archived. Replying is disabled for this topic. | |