An updated version 1.2 of Voxengo TransGainer is now available for download. Voxengo TransGainer implements an audio signal envelope adjustment algorithm that reacts on transients rather than on a signal's loudness level. TransGainer is available in AudioUnit and VST plug-in formats (including native 64-bit support), for Mac OS X (v10.5 and later), and Windows computers.
Note that on Mac computers, TransGainer now supports Mac OS X v10.5 and higher only, running on Intel processors. Mac PowerPC support is not available.
This version implements the following changes:
A problem with the Global Settings sliders missing fixed.
Side-chain routing presets now appear dimmed to reduce confusion.
Parameter automation on AU Mac OS X now shows real parameter values.
The "VST Function Sync" global switch was added that fixes crashes in some hosts (i.e. Tracktion).
Preset "update" function implemented in the preset manager.
"Density mode" implemented in level meters.
The "No Multi-Channel Operation" global switch was added that fixes incompatibility with some non-VST2.3 compliant VST hosts.
The "Show All Channel Meters" routing switch added.
Additional visual look variation settings added.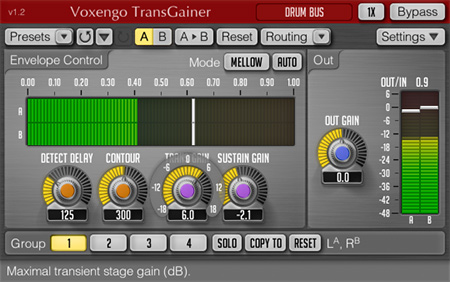 TransGainer allows you to specify gain adjustments for a sound's transient and sustain stages separately. You can also choose an expected average time between transients so that algorithm delivers you the most precise results possible. With the help of TransGainer you can pass the border from good to excellent audio recordings.
TransGainer features:
Transient stage loudness adjustments
Sustain stage loudness adjustments
Transient-to-transient time control
Stereo and multi-channel processing
Internal channel routing
Channel grouping
Mid/side processing
Up to 8x oversampling
64-bit floating point processing
Preset manager
Undo/redo history
A/B comparisons
Contextual hint messages
All sample rates support
Zero processing latency
Voxengo TransGainer end-user license is available for purchase on-line. Demo version of Voxengo TransGainer can be downloaded at the Voxengo web site: https://www.voxengo.com/product/transgainer/
theFuture
on Dec 30, 2011, 7:20am, edited 2 time(s), last modified on Dec 30, 2011, 2:21pm:
YES! I love this plugin... now with selectable oversampling style! Voxengo FTW!
| | |
| --- | --- |
| This topic was last updated 180 days ago, and thus it was archived. Replying is disabled for this topic. | |