Voxengo GlissEQ version 3.4 update is now available for download. Voxengo GlissEQ is a dynamic parametric equalizer plug-in for professional audio and sound production applications, available in AudioUnit and VST plug-in formats, for Mac OS X and Windows computers. This version implements the following changes:
A wrong level meter visual look on Mac OS X fixed.
Fixed a chaotic movement of the 2nd band when a new band is added.
Secondary spectrum import/export added.
Window resizing implemented.
Static spectrums display and disk saving implemented.
Plug-in's popup-windows now recover last position after reopening.
Mouse backward and forward buttons can be used for filter type and parameter value selection.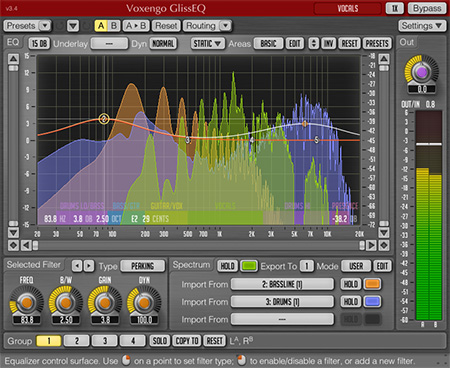 The most interesting and unique feature GlissEQ offers you is its filters with dynamic behavior. Beside this wonderful "dynamic behavior", GlissEQ features real-time spectrum analyzer. Moreover, the spectrum of a track can be exported to any other instance of GlissEQ thus making real-time inter-track spectrum comparisons possible. This can help you free frequency ranges in one track to allow the instrument in another track occupying same frequencies breathe.
GlissEQ features:
Filters with dynamic behavior
Real-time spectrum analysis
Real-time spectrum import/export
Up to 32 parametric filter bands
16 filter types
Harmonically-enhanced filter type
Narrow-band sweeping
EQ area highlight
Static spectrums display
User interface window resizing
Stereo and multi-channel processing
Internal channel routing
Channel grouping
Mid/side processing
Up to 8x oversampling
64-bit floating point processing
Preset manager
Undo/redo history
A/B comparisons
Contextual hint messages
All sample rates support
Zero processing latency
Demo version of Voxengo GlissEQ and other pro audio plug-ins can be downloaded at the Voxengo web site: https://www.voxengo.com/product/glisseq/
| | |
| --- | --- |
| This topic was last updated 180 days ago, and thus it was archived. Replying is disabled for this topic. | |