Voxengo Elephant update version 3.3 is now available for download. Voxengo Elephant is a mastering limiter plug-in for professional music production applications, available in AudioUnit and VST plug-in formats, for Mac OS X, Windows XP and Windows Vista computers.
Version 3.3 update includes the following changes:
"Radial" knob mode can be now disabled completely.
"Off-Line Render" indication added.
Global level metering parameters added.
A/B switch visual appearance changed.
Knob read-outs now require a single click for keyboard entry.
Occasional crashes in WaveLab and other hosts fixed.
Host sample rate switch-related problem fixed.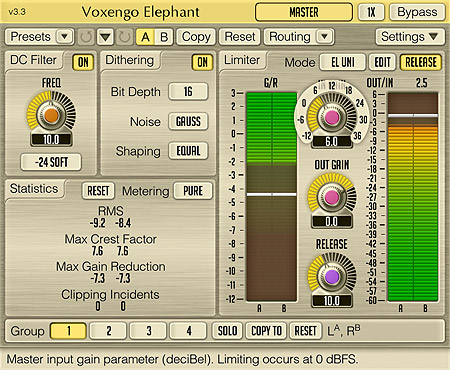 Elephant is a highly competitive plug-in for mastering applications: it features a variety of limiter modes that can be deeply customized, and a comprehensive set of level metering tools. Elephant's built-in linear-phase oversampling is a new standard in quality peak limiting and loudness maximization. Elephant limiter can be used for mixing and mastering of both stereo and multi-channel music and sound material, at any standard sample rate.
Elephant features:
Transparent signal limiting action
10 predefined limiter modes
Limiter mode editor
Optional release stage
Noise-shaped bit-depth converter
DC offset removal filter
Multi-channel processing
Internal channel routing
Channel grouping
Up to 8x linear-phase oversampling
64-bit floating point processing
Preset manager
Undo/redo history
A/B comparisons
Contextual hint messages
Voxengo Elephant is available on-line for USD 89.95. Voxengo Elephant demo can be downloaded at the Voxengo web site: https://www.voxengo.com/
Dandruff on May 19, 2009, 6:53am:
Thanks!
Yannick on Jun 5, 2009, 9:28am:
what is the global level metering ?
Well, I've probably called it incorrectly. I meant level metering parameters (integration time, release time, peak hold time) that affect all instances of Elephant.
Yannick on Jun 6, 2009, 9:12am:
I would like to be able to recalibrate the K20 meter. Now it goes to +24 dB, and has no clear indication at +20 dB. Also a peak headroom memory and a RMS headroom value would be handy.
Why do you need a "clear indication at +20 dB"? When you went above +4 dB you are already at a dangerous levels.
Peak hold and release time can be changed in the Settings window.
Yannick on Jun 9, 2009, 1:38pm:
Clearly we are not understanding each other correctly.
In the K20 scale +20dB corresponds to 0 dBFS. Your K20 scale goes to +24, with no clear marker at +20. This makes it more difficult to aim at peaks of +20 dB without hitting the limiter too much (for classical material).
I do not see any reason why +4 dB is dangerous (peak, RMS I would kindof agree), this leaves 16 dB of headroom.
Will a peak meter turning red suffice (white when it's below +20), or do you want to see +20 as a highest mark on the level meter? (I do not really want to see +20 on the level meter as it is not divisible by 6 - while 6 is a cornerstone figure for decibel scale.
Aleksey Vaneev
on Jun 9, 2009, 4:31pm, edited 2 time(s), last modified on Jun 9, 2009, 12:35pm:
Well, to make it clear, I'm not really satisfied with K metering - it is full of "stuff" not really reasonable like biasing calibration where 0 dBFS peaking sine-wave's RMS stays at 0 dBFS - if we are measuring loudness, 0 dBFS sinewave's power is -3 dBFS, NOT 0 dBFS as per K metering. Absence of 6 dB steps awareness in K metering is also very problematic, together with non-linear metering requirement. Sounds like single mastering engineer's preference wanting to become a standard - not really cool in by book.
| | |
| --- | --- |
| This topic was last updated 180 days ago, and thus it was archived. Replying is disabled for this topic. | |